IAA 2005: Volkswagen Presents the New Eos
Posted by Lorenzo at 4:28 p.m.
Text and photo from Volkswagen AG.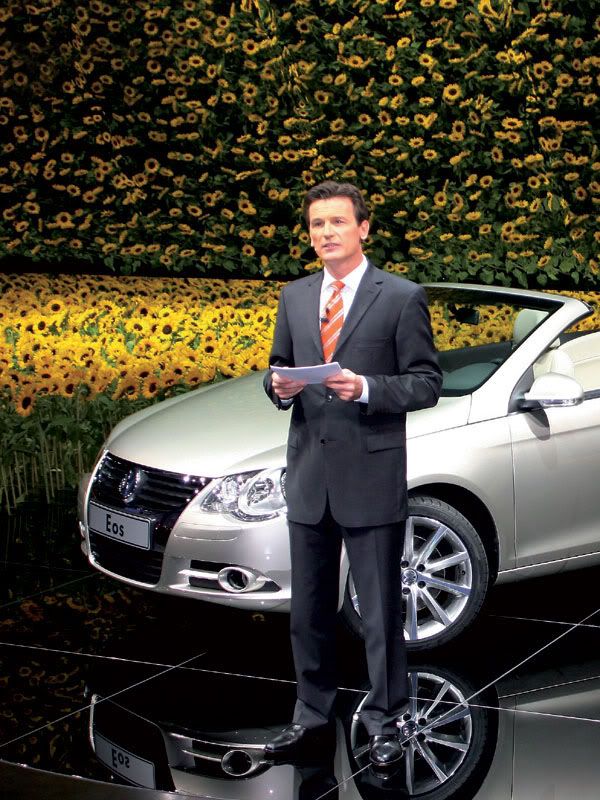 WOLFSBURG, Germany - Vast interest for the latest product from the house of Volkswagen: In front of nearly 1,000 journalists Dr. Wolfgang Bernhard unveiled the new Eos. In spring 2006 the new convertible coupé launches in Europe; available in all five continents.
Spectacular start of the IAA 2005: Dr. Wolfgang Bernhard, executive chairman of the Volkswagen Brand, unveiled the new Eos in front of nearly 1,000 media representatives. Under a myriad of flashlights Dr. Bernhard drove on stage and opened the convertible roof to huge applause. The world premiere of the Eos was staged in a specially created sunflower field at the Volkswagen booth.
"The Eos is not a compromise, that can't make up its mind on what it is all about. The Eos is both: a real convertible and a real coupe." In his speech, Dr. Bernhard also announced a continuation of this year's product offensive. By 2009 Volkswagen will bring five to ten entirely new models on the market "A dream come true with a perfect balance between price and performance in its segment."
The Eos chassis concept was not built from a closed model but rather developed as its own independent convertible coupe. Essential technologies such as power train range (85 kW / 115 hp to 184 kW / 250 hp) and the chassis are based on the new Passat. The Eos will be available on the European market starting spring 2006; later that year the other continents will follow. In Germany the Eos starts at 25,950 Euros.