LA 2007: Volkswagen sets Tiguan price at US$22,490
Posted by Lorenzo at 6:32 p.m.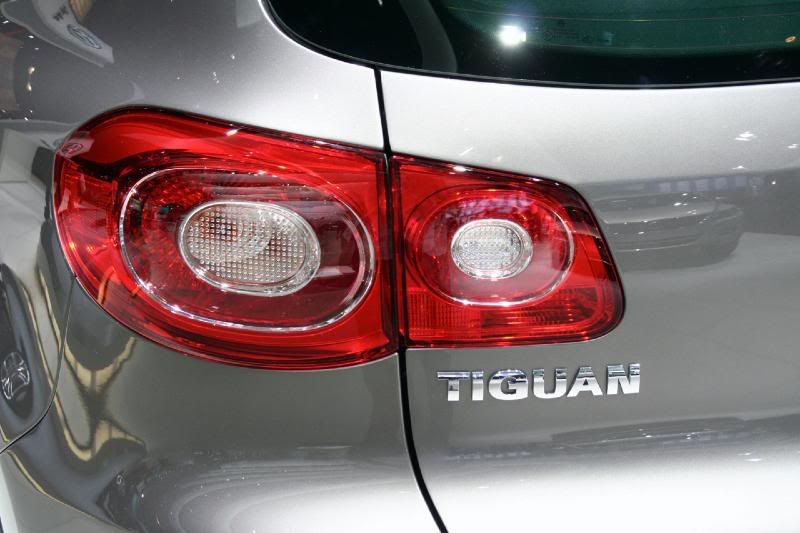 Although the
space up! blue
concept took most of the attention at this year's Los Angeles Auto Show, the Tiguan did not disappoint. Volkswagen used LA to announce more details about US bound Tiguans.
One of those announcements involved the Tiguan's price when it hits US showrooms. Volkswagen have priced the Tiguan at US$22,490. Competitively priced considering the Honda CR-V and Toyota RAV4, two of it's biggest competitors in this segment, are $20,700 and $21,100, respectively. Volkswagen's usual long list of standard features will sure offset the price difference pretty quickly.
Under the hood will be the much loved 2.0L turbo engine. The Tiguan will also be Volkswagen's first SUV in the US to have a manual transmission option. Buyers can choose between a 6-speed manual or auto (not sure if that will be a DSG but we don't see why not). Although AWD was not mentioned, expect to see it eventually.
Also, Volkswagen's new navigation system, the RNS 510, will be an option. The RNS 510, first seen in the Touareg 2, is a feature packed system that includes a touchscreen, a 30GB hard drive for maps and music, an SD card reader, a DVD drive capable of reading CDs and DVD Audio, and an iPod interface among others. The system can also get traffic information via Sirius' traffic service.
Volkswagen hopes the Tiguan will be for the SUV what the Golf is for the compact. It is due to hit our shores summer of next year.
Volkswagen's press release and images from the LA Auto Show from Autoblog, after the break.
Source: Volkswagen; images from Autoblog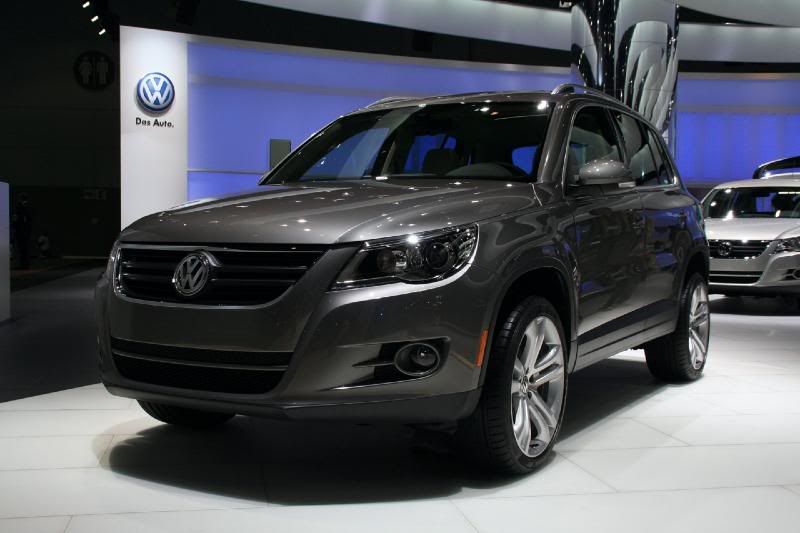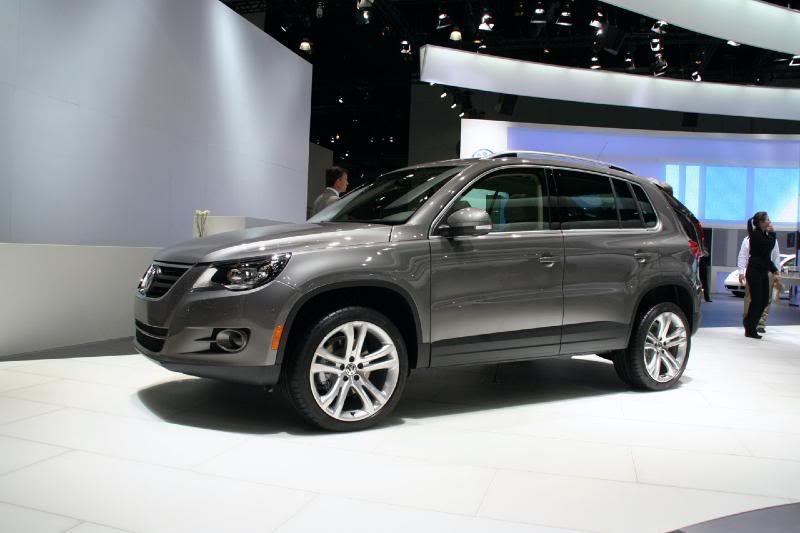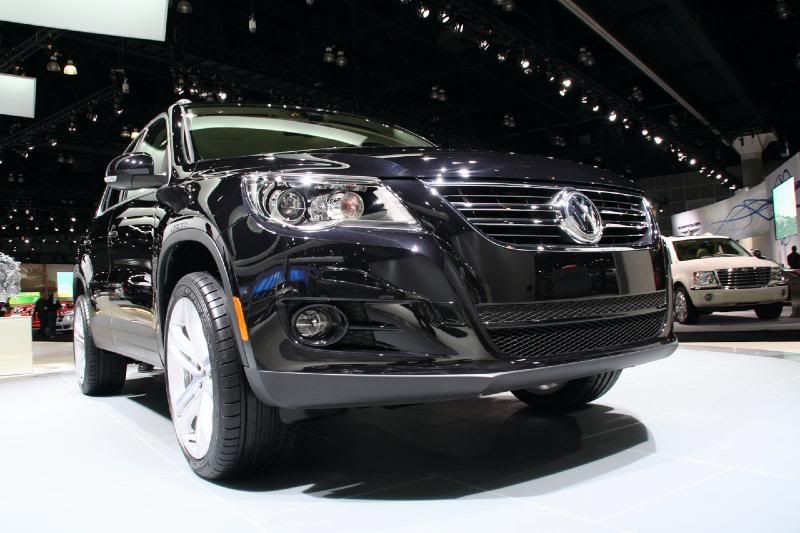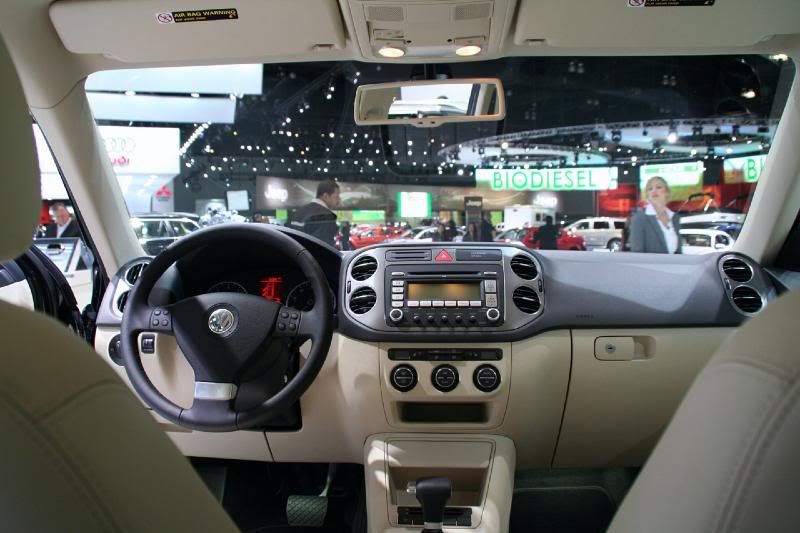 LOS ANGELES - Volkswagen of America, Inc. introduced the production ready Tiguan compact sport utility vehicle today at the Los Angeles International Auto Show. The Tiguan represents a new entry in a new segment for Volkswagen.

"Tiguan is a new reflection on the three pillars of the Volkswagen brand promise: innovation, responsibility and value," commented Volkswagen of America CEO, Stefan Jacoby. "Growing our business as a volume player in the US market will require new product entries in new segments for Volkswagen. The premium compact SUV Tiguan is the first of these new products," he added.

Tiguan brings new standards of design aesthetics, driving dynamics, salient safety features, and a host of luxury and convenience attributes to an emerging category.
Tiguan offers distinctive European design characteristics such as a sophisticated and eye-catching face, an available Panoramic sunroof enabling almost 13 square feet of sunshine, and three trim levels allowing personalized configurations for a wider range of CUV shoppers.

Tiguan features the "fun to drive" handling and performance expected from a Volkswagen. A standard 2.0L TFSI engine delivers turbocharged acceleration while still delivering highly responsible fuel efficiency. European tuned suspension enables connected handling, while also providing a smooth and compliant ride. Both front wheel drive and 4Motion all wheel drive is available to suit any weather or road condition.

Tiguan is also unique in the category by offering a choice of either 6-speed automatic or 6-speed manual transmission options.

The legendary Volkswagen GTI shares its 2.0L TFSI engine with the Tiguan. This spunky turbocharged four-cylinder power plant delivers 200 horsepower and 207 lbs –ft of torque. The combination of four valves per cylinder, direct fuel injection and turbo charging delivers the optimum balance of power and economy.

Like all Volkswagens, the Tiguan includes the Prevent and Preserve Safety System, consisting of 45 safety features. As standard equipment, the Tiguan includes six airbags, with rear side airbags available as an option.

The Tiguan was designed with driver and passenger convenience in mind. Flexible seating, with reclining rear seats with six inches of fore and aft travel, allow for additional legroom or cargo space depending on individual needs. The front passenger seat also folds flat for carrying longer objects, as well. The interior also includes various clips and storage bins ensuring safe space for all types of items that travel in the vehicle.

Tiguan also features the state of the art RNS 510 navigation system, combining a sophisticated radio with a precise touch screen navigation system and easy to use map views through its 6.5 inch high resolution wide screen display. The system includes a 30GB hard drive to store map data and audio files that can be brought into the device via the optical drive or SD card slot. The optical drive is capable of reading CD, DVD and DVD Audio formats. In conjunction with the media device interface (MDI), the system can interface with an ipod or USB stick. The system offers available Sirius Satellite Radio audio services and Sirius Traffic service, streaming real-time traffic data into the navigation system.

Tiguan will be based priced at $22,490, reflecting the Volkswagen brand commitment to value. Tiguan will be available in United States Volkswagen dealers in summer 2008.

Founded in 1955, Volkswagen of America, Inc. is headquartered in Auburn Hills, Michigan. It is a subsidiary of Volkswagen AG, headquartered in Wolfsburg, Germany. Volkswagen is one of the world's largest producers of passenger cars and Europe's largest automaker. Volkswagen sells the Rabbit, New Beetle, New Beetle convertible, GTI, Jetta, GLI, Passat, Passat wagon, Eos, and Touareg through approximately 600 independent U.S. dealers. Visit Volkswagen of America online at vw.com.