Chicago 2008: Routan revealed
Posted by Lorenzo at 6:51 p.m.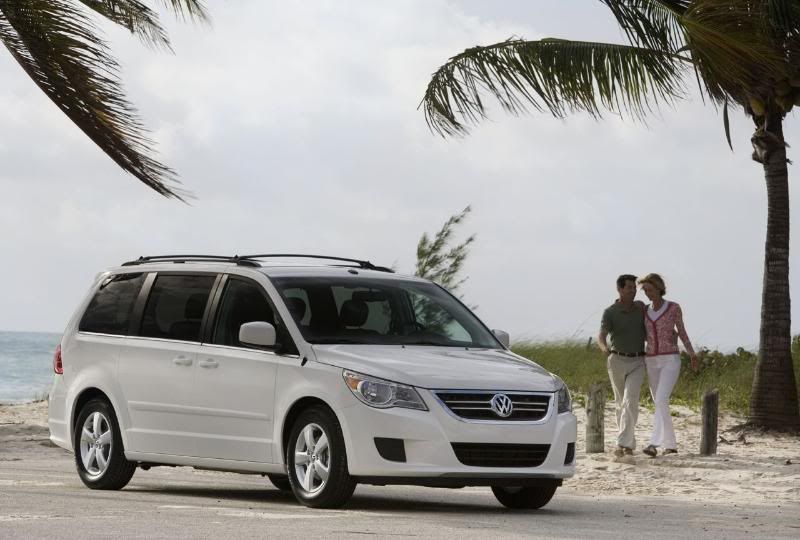 The Chicago Auto Show is just around the corner (actually, media days begin tomorrow) and those folks over at Autobild just couldn't hold it much longer. They have released the official images and information on Volkswagen's new people carrier for the US, the Routan.
It's a handsome looking minivan. Not offensive at all, much unlike the offerings of others in the market (I'm looking at you,
Nissan
and
Toyota
). The front end, is distinct enough from the Routan's Chrysler/Dodge bretheren. Enough so that those who didn't know better wouldn't have a clue of the shared DNA. Acutally, the front end very well integrates into the Volkswagen norm. It even uses the new iteration of Volkswagen's grille. A- to D-pillar, however, is as Town & Country/Caravan as you can get. The taillights are Volkswagen's own.
The same theme continues inside. The whole dashboard looks different enough but when you look at it, you know that you've seen it before. It's definitely not Volkswagen quality (or ergonomics) but it does look to be above that of Chrysler's and Dodge's. Also unlike the Chrysler/Dodge specimens, the Routan breaks the center stack just below the navigation sysytem, which creates a more horizontal feeling in the cabin as opposed to the Town & Country/Caravan, which is vertically themed.
Engine are both Chrysler's with the base being a 3.8L V6 at 197 hp and 230 lb. ft. torque and an optional 4.0L V6 at 251 hp and 259 lb. ft of torque. Both come mated to a 6-speed auto. Features such as a two-screen entertainment system, power sliding doors, power liftgate, and touchscreen navigation with 20 GB hard drive were mentioned, Stow 'n Go or Swivel 'n Go were not which means these features will be MIA in the Routan.
The question remains, will Volkswagen be able to entice buyers from the Odysseys and Siennas of the world with a minivan that it mechanically the same as the Town & Country and Caravan? If the Routan is successful here, maybe that will convince Volkswagen to give this market more thought next time it gives us a minivan. How about a Microbus revival, or even a Touran/Sharan? The Routan should be out later this year for below $25,000.
Press release and photos after the jump.
Update:
Autoblog has a YouTube video of the Routan at the Chicago Auto Show which is after the jump and they also have some
photos
from the show, as well. Based on the video, the Routan will have an electronically folding third row. The second row looks like they might also fold down (as in Stow 'n Go).
Source: Volkswagen, Autoblog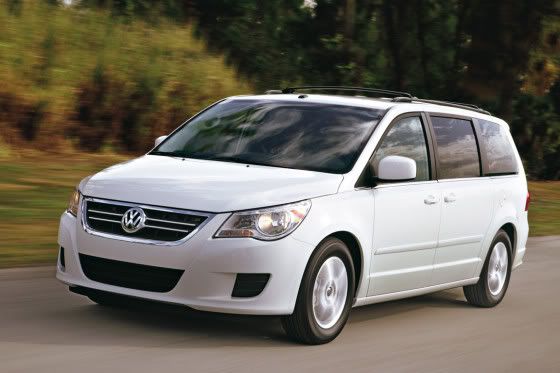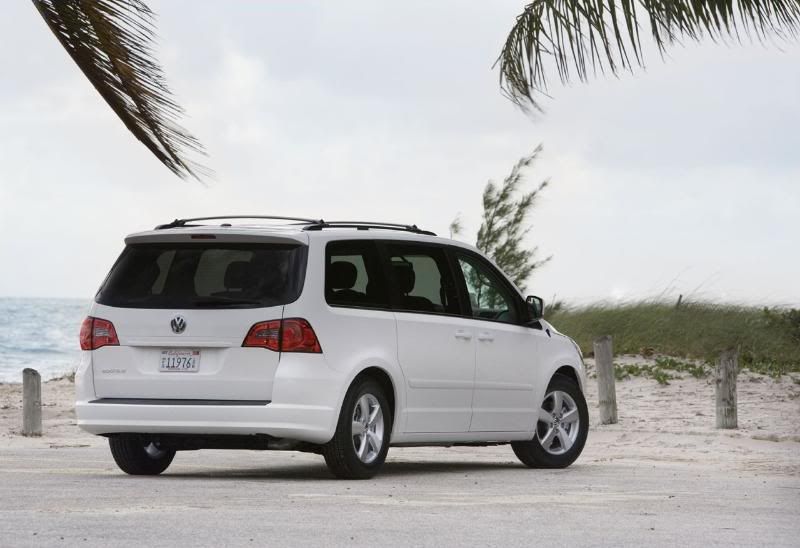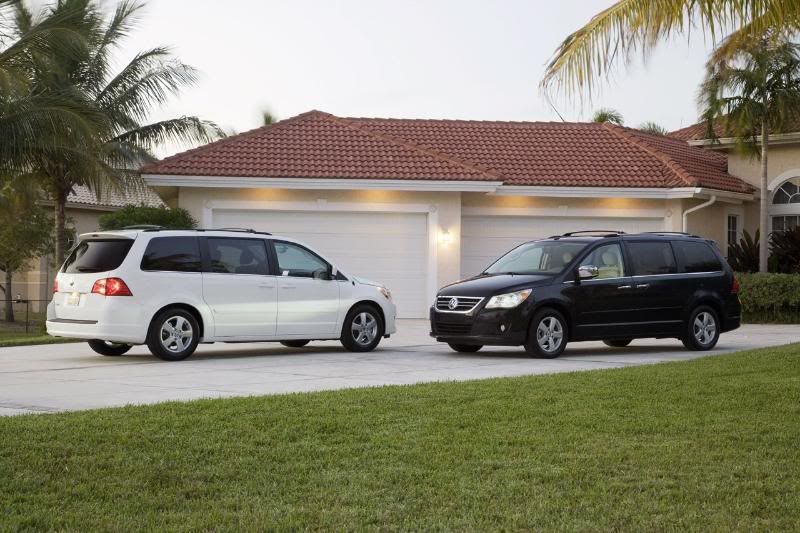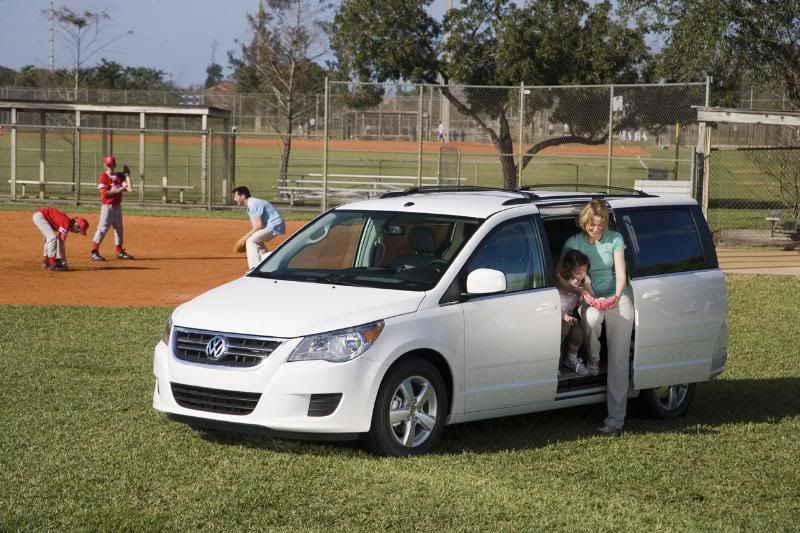 VOLKSWAGEN UNVEILS ROUTAN AT CHICAGO AUTO SHOW
European inspired design and driving dynamics highlight new minivan

CHICAGO – Volkswagen of America today unveiled the Routan, an all new seven-passenger minivan. It delivers the best of both worlds: a vehicle that combines European sensibilities in design, fit and finish, and handling characteristics with market relevant features and outstanding value.

The Routan is instantly recognizable as a member of the Volkswagen family, with its stylized front grille and exterior treatments. The interior enhancements create an environment that is visually pleasing, modern, and meticulously detailed. The high quality materials, beautiful textures and rich luxurious colors are combined with exacting tolerances and superb fit and finish. While pleasing and contemporary, the interior also follows the traditional Volkswagen design philosophy that form follows function.

Second row captain's chairs offer an increased level of luxury and comfort while still providing the convenience of a traditional minivan, with over 32.7 cubic feet available behind the third row seats and a full 83 cubic feet is available behind the second row.

The Routan will come standard with a 3.8L V6, offering 197 hp and 230 lb. ft. of torque when combined with the standard six-speed automatic transmission. A 4.0L V6 will be available rated at 251 hp and 259 lb. ft. of torque. Routan features European tuned suspension and steering optimized for handling and improved driving dynamics. Standard all-season traction control and ESP, brings safety and security to the Routan.

The Routan comes with a host of unique features, including:

• Conversation Mirror
• Rear seat entertainment system with two 9 inch screens for second and third row, wireless headsets, and remote control
• Dual power sliding doors with power windows
• Touch screen navigation with twenty meg hard drive
• Power lift gate with flood lamp
• Thirteen cup holders

Volkswagen delivers a competitively priced entry into this high volume segment with prices starting below $25,000. The Routan will be built in an already existing facility in Windsor, Ontario.

With Routan, Volkswagen dealers add a vehicle that will provide additional, incremental growth in the market. A distinctly designed minivan at an attractive price point will broaden the brand portfolio, while providing a roomy alternative to existing Volkswagen owners.