Volkswagen pickup in Hilux clothing?
Posted by Lorenzo at 7:44 p.m.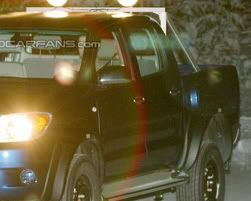 The rumor of a Volkswagen pickup has been circulating the web since the dawn of time. And while Volkswagen does have some pickup trucks in certain markets, none has been added to their core lineup. And ever since Volkswagen first unveiled the AAC concept 2000, the company has remained mum about the development of the concept or a model similar to it.
But it seems Volkswagen isn't out of the game yet as far as pickups go. A Toyota Hilux registered in Brunswig, Germany, a town close to Wolfsburg and where Volkswagen registers prototypes, was caught testing in Northern Scandanavia.
Now, why a Hilux, you ask? We don't know. We do know that Toyota and Volkswagen had a joint venture before where rebadged Hiluxes were being sold as the Volkswagen Taro. Now whether Volkswagen wants to resurrect that joint venture is unknown. We also know that the prototype Hilux was riding on a wider wheelbase, meaning it isn't really a Hilux under the skin but perhaps, the Volkswagen's own platform.
Volkswagen will probably be putting the pickup in action in emerging markets but don't rule out the US just yet. The Americans' love affair with pickups coupled with Toyota's recent success with the new Tundra may just inspire Volkswagen to give it a shot here. Diesel powerplants is expected to be the engine of choice with select gasoline engines.
Source: World Car Fans