Volkswagen's R-Class Fighter
Posted by Lorenzo at 11:56 a.m.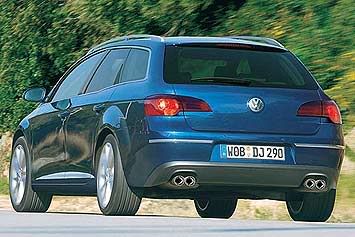 Volkswagen must clearly feel that the Touareg and Phaeton are lonely at the top.
Auto Motor und Sport
has reported that Volkswagen has given an upmarket crossover vehicle the green light for production and will be built to battle it out with the Mercedes-Benz R-Class. This new model, tentatively called the 'Station', is set to debut in 2009. The seven seater will share key components with the second generation Phaeton and Touareg, both coming in 2010, and will be positioned between the two. The Station is part of an upmarket product offensive by Volkswagen Brand chairman Wolfgang Bernhard.


Details about engine offerings are vague at best however the Station will be offered with V6 and V8 engines. The Station will also feature Volkswagen's new common rail diesel technology, which in 2008 will replace Volkswagen's Pumpe Duse diesel technology currently used in TDI engines. The Station could also be offered with an uprated version of the GTI's 2.0T engine. The Station is also likely to be offered in two- and all-wheel drive versions.