It's Official: Volkswagen Tiguan
Posted by Lorenzo at 12:10 a.m.
Photo is artist's rendering from Autobild.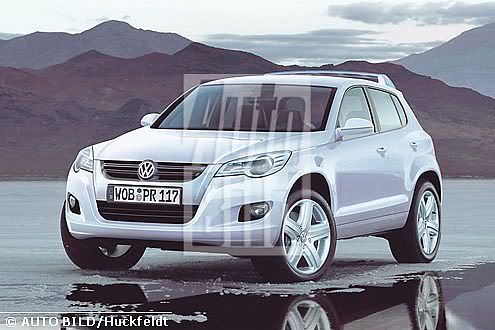 Volkswagen yesterday officially announced that their new compact SUV will be named the 'Tiguan'. The name was chosen by readers of Germany's Autobild Magazine after
Volkswagen asked them to choose
from five different names and vote for one that will become the SUV's name. Tiguan came out the winner beating out such choices as 'Rockton', 'Namib', 'Nanuk', and 'Samun'. Details for Volkswagen's new off-roader are sketchy however it is expected to be introduced at the 2007 Frankfurt Auto Show next September and can be had for about €26,000.
Autobild suggests
that the Tiguan will be offered with a 1.4L 150 hp TSI motor and two versions of the 2.0L TFSI engine. One version would produce 170 hp and the other would produce 200 hp. As well, two versions of the same 2.0L TDI engine offered would produce 140 hp and 170 hp. Autobild also says that the Tiguan may be offered in both front- and 4Motion all-wheel drive. The Tiguan will be built in Germany, a move made by Volkswagen after German labour unions fought to keep production there.


Although no official photos or spyshots have surfaced, many suspect that a good indication of the Tiguan's exterior can be seen in the lines of the Concept A, which Volkswagen showed to the public earlier this year in the Geneva Auto Show. The Tiguan may share many of the Concept A's styling cues such as the daring front. The suicide doors, the lack of a B-pillar, and the whole interior will definitely not make production.

Speculation is that the Tiguan is a combination of the words 'Tiger' and 'Iguana'. Whatever that says about the car, I don't know but when people hear the name, certain references to Napoleon Dynamite will no doubt be drawn.