VW announces new US Motorsport Strategy
Posted by phaeton at 1:20 a.m.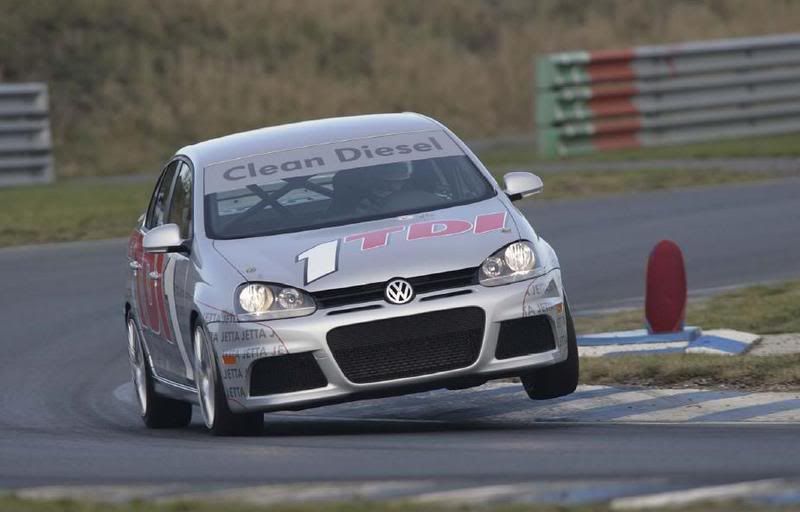 VWoA have decided against doing the GTI Cup but in its place is the new Jetta Clean TDI Cup.

Obviously this has alot to do with the future of VW in America and its marketing tactics with the Clean TDI brand.

The Jetta TDI Racer will have 170hp/125kW @ 295 ft.-lbs./ 350Nm 1900-2500rpm of torque, with DSG transmission and a race tuned suspension package.

Visually the Jetta TDI Racer will have the Thunder Bunny front spoiler combined with the Jetta side skirts and rear valence from the Jetta Styling kit and a whopping wing from VW Motorsport in Germany and when you add the 18inch rims its just the hottest Jetta yet.

Alongside the TDI Cup VW will also compete in the 2008 SCORE International Racing Series including the SCORE Baja 1000 in a specially designed race Touareg made by VW Motorsport HQ in Hanover, Germany.

If it looks good as the illustration were in for a treat.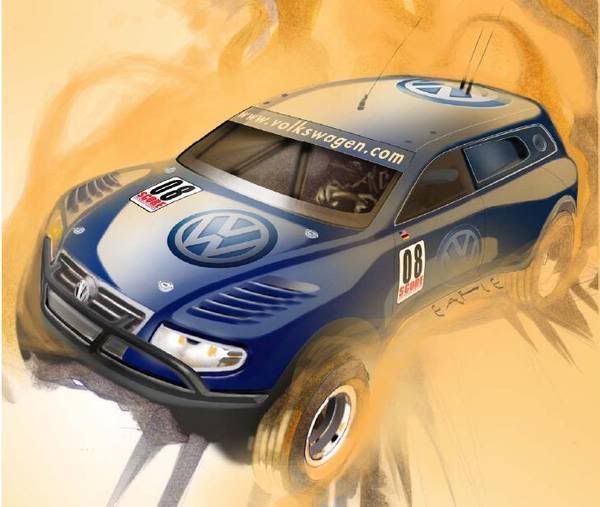 VW have also launched a new US VW Motorsport website which you will find after the jump.....


Volkswagen to Feature Clean Diesel Power in Jetta TDI Cup Racing Series

LAS VEGAS – Volkswagen of America, Inc. announced today that it will bring TDI clean diesel technology to select North American race tracks starting in May 2008. The Jetta TDI Cup series will be sanctioned by the Sports Car Club of America (SCCA) Pro Racing Inc., and will appear at up to eight major racing venues in North America during 2008.

"The Jetta TDI Cup racing series will celebrate Volkswagen's diesel technology and heritage in motorsports as good, clean fun," said Stefan Jacoby, CEO, Volkswagen of America, Inc. "Not only will the young drivers gain real-life track experience in a factory-prepared race vehicle, it will allow them to develop their own mindset of today's clean diesel technology, and foster increased awareness of its advantages in this new era of environmental sensitivity."

The Jetta TDI Cup shifts gears from the previously announced GTI program, allowing Volkswagen to showcase the power and performance of its new clean diesel technology, available in the upcoming 2009 Jetta TDI sedan and SportWagen. With up to 30 Jetta TDI's competing in the hands of aspiring, young drivers, this unique motorsport offering will highlight a new, exciting platform of racing that does not currently exist – a full field of clean diesel powered vehicles.

"With the Jetta TDI Cup, Volkswagen has created an amazing platform to develop young drivers and expand their knowledge about clean and quiet diesel technology," said Robert Wildberger, president and CEO, SCCA Pro Racing, Inc. "We look forward to the series in hopes that it will attract more attention to the drivers and advantages of diesel power."

The Jetta TDI Cup racecars will be optimized for track performance and safety. To focus on the skill of the young drivers and to ensure performance parity, proper maintenance and safety standards, all vehicles will be owned and maintained by Volkswagen. The heart of the Jetta TDI Cup racing vehicle will be the all-new, high-tech 2.0-liter four-cylinder TDI clean diesel engine rated at 170 horsepower and nearly 300 ft.-lbs. of torque in racing trim. The Jetta TDI race vehicles will be outfitted with a six-speed automatic DSG® transmission, electro-mechanical power rack-and-pinion steering system, and advanced multi-link fully independent race-tuned suspension, driver airbag supplemental restraint system, and four-wheel ABS racing brakes.

Signifying Volkswagen's environmental commitment, the Jetta TDI Cup series will be certified as CarbonFree by Carbonfund.org. Additional program details will be available at www.vwmotorsportusa.com by mid-November 2007.

---------------------------------------------------

Volkswagen Preparing Touareg TDI For SCORE International Off-Road Racing Competition

LAS VEGAS — Volkswagen of America, Inc. has announced that it will build and race a competition Touareg TDI race vehicle in the 2008 SCORE International Racing Series. Specifically engineered to address the unique and harsh terrain of the Baja peninsula, the Touareg TDI race vehicle will compete in the SCORE Trophy Truck Open Production – Unlimited Class. The vehicle will be introduced in late 2008.

"Volkswagen's off-road racing heritage dates back to the very first Baja 1000 and we've been very successful in recent off-road racing events such as the Pikes Peak International Hill Climb, the Dakar Rally and a fantastic result at the 2007 Baja 500," said Kris Nissen, Volkswagen Motorsport Director. "The experiences gained from previous racing successes with high-powered diesel engines will allow us to build the Touareg TDI race vehicle to address the various challenges of Baja."

"The vehicles and technology that Volkswagen has contributed to the SCORE Baja races for the past 40 years have helped to define the series," said Sal Fish, president and CEO of SCORE International. "We look forward to continuing the relationship with them and bringing clean diesel technology to the racers."

The Touareg TDI race vehicle will be driven by multiple Baja winners, Mark Miller, a long –time Volkswagen Factory driver, and Ryan Arciero. Miller set the record for best finishing time in a diesel vehicle at the 2007 Baja 500. Arciero set a world record at the 2007 Pikes Peak International Hill Climb in July with the fastest time in the alternative fuel diesel truck high performance showroom stock division.

For more information about Volkswagen's motorsport initiatives, please visit www.vwmotorsportusa.com.

Source: VWoA & TDIClub Forums
Labels: Clean TDI, jetta, TDI Cup, Touareg, volkswagen