Volkswagen and David Beckham
Posted by Lorenzo at 4:34 p.m.
Text and photo from Carpages.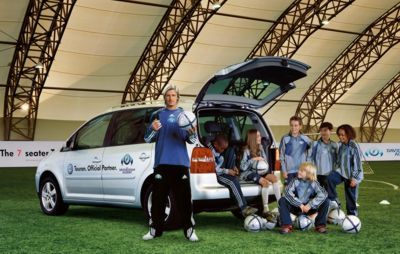 Volkswagen's Touran, the seven-seat compact MPV, has teamed up with The David Beckham Academy and been named as its official automotive partner. The three year sponsorship programme, which began in February, will support a series of initiatives designed to promote out-of-school sports activities for children, while encouraging parents to take an active role in the development of their children's sporting aspirations.
By providing school children with free of charge transport to and from The Academy, Volkswagen hopes to give children of any ability the opportunity to participate in and train at The David Beckham Academy. In the first year alone, Volkswagen will transport 10,000 children from a variety of schools across the UK, between the ages of 8 to 15, to the Academy. The Touran is also helping to spread the reach of the Academy's work by supporting a schools education programme online. Academy coaches have also been provided with Tourans.


To mark the launch, a national promotion will be taking place in which potential Touran or Volkswagen customers will have the chance to win a one off special day training at The Academy with David Beckham later in 2006.

The David Beckham Academy was opened in November 2005 and is the largest facility of its kind in Europe. The Academy has been built on the Greenwich Peninsula in East London, as part of a 12,000 sq foot redevelopment. The Academy comprises two indoor full size pitches and an extensive series of buildings featuring state-of-the-art classrooms, dining hall, training facilities and changing rooms. It is designed to provide a fun and interactive experience for boys and girls of all ability levels.

On the announcement of the sponsorship David Beckham said: 'It's great to have Volkswagen's support for The Academy. They will play a crucial role in bringing children to and from schools to The Academy free of charge. I am excited about working with them over the next three years to help encourage children to be more active and take part in sport.'

Rod McLeod, Head of Marketing at Volkswagen said: 'The Volkswagen Touran is the perfect vehicle for busy families with active lifestyles and this partnership with The David Beckham Academy underlines a joint commitment to promoting children's participation in sport by providing the ideal transport service, making sport accessible for children in the UK, whatever their ability.'