Volkswagen Polo BlueMotion successful in Europe
Posted by Lorenzo at 6:20 p.m.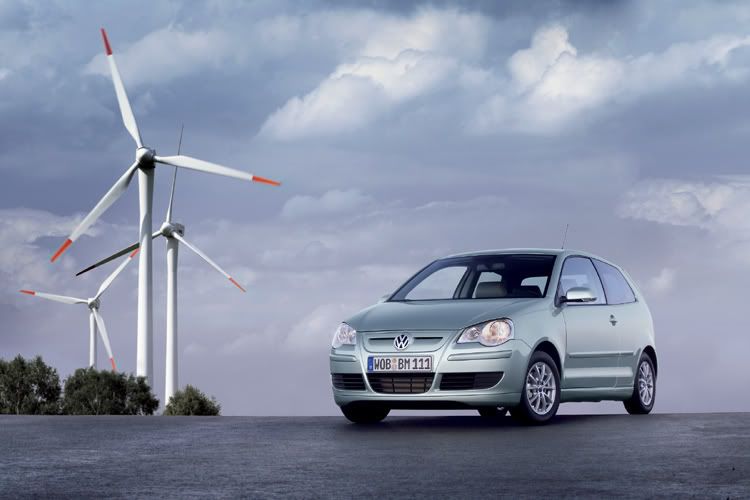 Volkswagen says that their economical Polo BlueMotion is far exceeding expectations with demand so high that they've had to ramp up production at factory in Pamplona, Spain just to meed them. In fact, Volkswagen says that even a right-hand-drive British model is in the works.
That's all well and good but it does beg the question: When will we see it over here, Volkswagen? Yeah, some of us love our big gas guzzling SUVs and half ton pickup trucks but some of us also like seeing more money in our pockets, not to mention the save-the-earth philosophy that's gaining momentum. And with a growing subcompact segment and with the increasing popularity of such models as the Yaris, Fit, and Versa, it would make sense if Volkswagen made this model available here. They would have a winner in their hands if they did.
Press release after the jump.




Source: Volkswagen AG


- Europe loves the thrift-mobile developed in Wolfsburg

- Demand far exceeds expectations

WOLFSBURG, Germany - Europe's most economical five-seat automobile, the Polo BlueMotion, is on course for success across the continent. More and more importers are eager to introduce the Polo BlueMotion to their markets, with even a right-hand-drive version in the pipeline for British buyers.

The Polo BlueMotion concept – to combine driving pleasure and fuel economy with minimum-margin vehicle pricing – has proven extremely successful in these times of constantly rising fuel prices in Europe.

To satisfy the immense demand which this vehicle has generated, production at the Pamplona plant in Spain has now been more than tripled to allow delivery times (currently several weeks) to be reduced as quickly as possible.

Despite its proven economical and ecological merits, the Polo BlueMotion nonetheless offers a lot of driving pleasure. Equipped with a 59-kW / 80-PS direct-injection turbo-diesel engine, which includes a particulate filter, it delivers powerful 195 Newton metres of torque at only 1,800 rpm, thereby enabling sharp performance. Call up the full dynamic potential of the three-cylinder TDI engine, and this 1,084-kg lightweight Polo will take you from 0 to 100 km/h in no more than 12.8 seconds, and will achieve a top speed of 176 km/h. Such an exceptional balance between agility and economy is the product of modified aerodynamics coupled with the high-efficiency functionality of the drive unit.

With a basic price tag of 16,157.33 euro and given the exceptionally good value retention that the Polo series of models has always offered, the new Polo BlueMotion stands for an economically well-balanced buyer choice. Set against the comparable Trendline version, this thrifty speeder is further equipped with standard features such as 14-inch alloy wheel rims, attachment parts finished completely in the vehicle colour, an aerodynamically optimised front section, rear spoiler, sporty seats in the new "Popcorn" or "Select" designs and a multi-functional display which provides access to an array of vehicle information which includes average fuel consumption. Another economically attractive aspect of this vehicle are the available financing terms.

This, the most compelling model in its range in terms of economy, sees Volkswagen launching its BlueMotion initiative on sustainability – a descriptor which refers not only to a vehicle, to the level of fuel consumption and to emissions levels, but which aptly describes the Volkswagen organisation as a whole. "Blue", the Volkswagen colour, stands for the elements of air and water which it is important to protect and conserve, while "Motion" represents future-oriented, forward mobility. The declared objective is to conserve the Earth's resources for future generations. The company intends to develop its BlueMotion label as a product descriptor identifying the model version with the most exceptional economic quality in each series. The Polo BlueMotion is the first model to be launched under this initiative.

TDI and BlueMotion are registered trademarks of Volkswagen AG or other companies of Volkswagen Group in Germany and additional countries.