Production Anniversary at Volkswagen
Posted by Lorenzo at 2:54 p.m.
Text and photo from Volkswagen AG.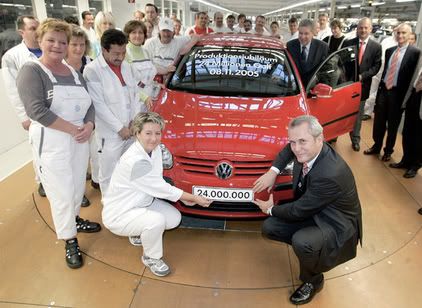 24 millionth Golf produced
WOLFSBURG, Germany - The world's 24 millionth Golf was produced today at Volkswagen in Wolfsburg. The anniversary model is a 2.0 litre TDI, 103 kW Golf Comfortline in tornado red.
"The Golf is top of the new registrations list in Western Europe and the highest-selling vehicle in the Volkswagen Group", commented Production Board member Reinhard Jung at the celebrations on Tuesday.
The Golf is now built at seven Volkswagen factories: Wolfsburg, Mosel, Brussels, Sarajevo/Bosnia and Herzegovina, Uitenhage/South Africa, Changchun/China and Curitiba/Brazil.
The model's success story began in 1974. In 2002, Golf production figures surpassed Beetle production, thus setting a new record at Volkswagen. Production of the fifth-generation Golf commenced in October 2003. The latest generation also includes the R32, the most powerful Golf of all time, where production started in August.
In total, Europe's leading automaker delivered some 719,000 Golf to customers worldwide last year. Major markets in Europe include Germany, the UK, France and Italy. Key sales markets for the Golf outside Europe are the USA, Japan and South Korea.