Volkswagen of America's SEMA Press Release Hints at Scirocco
Posted by Lorenzo at 12:09 a.m.
Text and photo rendering from Wheels24.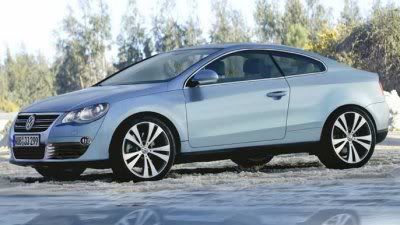 Volkswagen has given the first official hint that it is to build a 2+2 coupe which will revive the Scirocco nameplate.
In a
media release
about the Specialty Equipment Market Association (SEMA) show in Las Vegas, VW USA included the following paragraph:
"VW's current technical strengths and enriched model lines are simply one wave of a torrent of new models, including a new Passat with a larger, more powerful V6, the next GTI, the Eos hardtop convertible, and, further down the line, a 2+2 sport coupe that hearkens to the heyday of the Scirocco. Look for more exciting Volkswagens at next year's SEMA Show."
Although there have been a lot of rumours for sometime that VW is to ad a coupe model to its line-up, this is the first confirmation that the carmaker has such plans.
We expect that VW will launch the new Scirocco in 2008 (
expect VW to give us a first peek sometime near the end of 2006 or in 2007
).
It will take its styling cues from VW's 2003 Frankfurt Motor Show stunner, the Concept R.
In production guise this 2+2 seater will also share its design with that of the new Eos coupe cabriolet and Passat.
The new coupe will share its underpinnings with that of the Jetta and it VW will offer it with three engine choices.
The entry-level model will get the company's new 1.4-litre Twincharger FSI unit and it will also be available with the GTI's 147kW 2-litre turbocharged engine.
Under the bonnet of the range-topping model will the new 3.2-litre V6 engine of the Golf R32.
Related:
New Scirocco in 2008?