Rumor Mill 2005
Posted by Lorenzo at 11:43 p.m.
© 2005 The VW Gazette.
Many things on the Internet need to be taken with a grain of salt (just because a girl you met online said they look like Angelina Jolie, it doesn't mean you get Angelina Jolie). The same can be said with any news relating to Volkswagen. Everyday, news about Volkswagen are filled with speculation about new models. 2005 has been a year filled with speculation about supposed upcoming new models. As we enter 2006, we will try and dispell any rumors from the past year and, let me reiterate, some of these are merely rumors. Heed my advice and take them with a large grain of salt.
Rumor 1: New Scirocco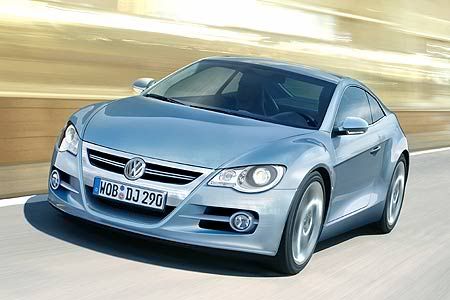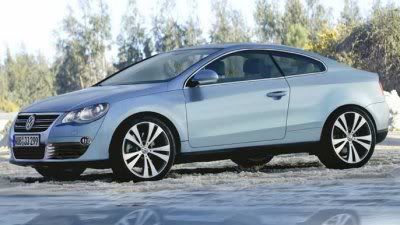 The Internet has been flooded with rumors about a new Scirocco, with photos to boot. In some renderings, it depicts a sort of orange 2-door fastback, in other, it depicts a hardtop version of the now dead Concept R. But perhaps there is more to this rumor. In Volkswagen's press release for the SEMA Show, the last part made a reference to a "2+2 sport coupe that hearkens to the heyday of the Scirocco". Not exactly an official announcement but no doubt a new Scirocco is in the cards for Volkswagen, which we can expect probably in 2008 with a first peek near the end of 2006 or in 2007. This new Scirocco may be marketed as the Rivo.
Probability of happening: 55%

Rumor 2: Passat Coupé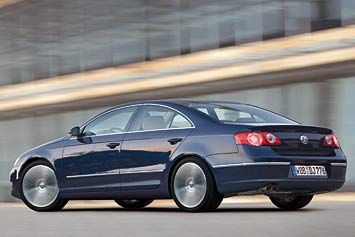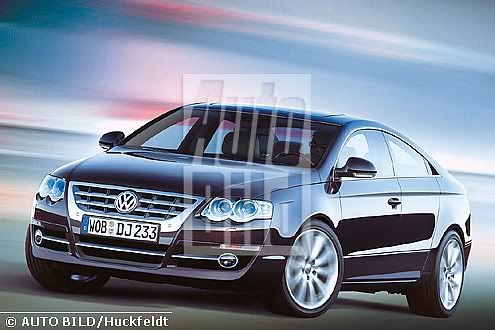 Last August, Volkswagen told US dealers during the annual dealer meeting in Dallas that Volkswagen plans to enter new product segments with four new vehicles (One of the four is the Eos, which has already been introduced and launched). One of those vehicles are aimed at competing with the Mercedes-Benz CLS. Those in the know says that Volkswagen is planning to release their own 4-door coupé a la CLS. This new model will be built on the Passat platform and will probably be available beginning 2008. The Passat Coupé will be positioned above the Passat but below the Phaeton (seeing as how the Phaeton has been discontinued in North America starting 2006, this will be the halo car in North America). The Passat Coupé may be built at Emden.
Probability of happening: 50%

Rumor 3: Reviving the Corrado
Remember the Corrado you had back in the 90s? Well, for the new Corrado, take the name and leave everything else because all Volkswagen plans to resurrect is the name. There are rumors in Germany that Volkswagen will revive the Corrado name and put it on a 4-door coupé version of the Passat (See Rumor 2). Not exactly a Corrado (the original had only two doors) but maybe Volkswagen hopes to capitalize on the nostalgia the name generates.
Probability of happening: 45%

Rumor 4: New Minivan
If a minivan is what the people want, minivan is what the people might get eventually. A new minivan is apparently in the works, which is one of the four vehicles Volkswagen plans to launch by the end of 2007. This new minivan will seat seven passengers with flat folding rear seats. Sound familiar? It should. Volkswagen is in talks with Chrysler to use their St. Louis factory to build the VW minivan. Expect to see this at the dealership January 2008.
Probability of happening: 70%

Rumor 5: Compact Touareg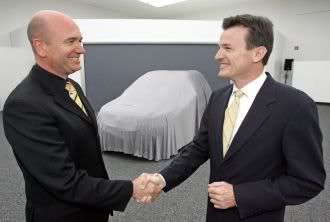 The last model in Volkswagen's 4 model launch is a compact SUV similar in size with the Honds CR-V or Toyota RAV4, as it is based on the Golf platform. This compact SUV will look like a smaller version of the Touareg and is expected to be at dealers by November 2007. Some spy shots of a camouflaged Golf Plus have been circulating around the Web. No word on whether or not this is the proposed little brother to the Touareg. It may have "Beduin" as its moniker. The Beduin will be built at Wolfsburg alongside the Touran. There is no official word however various sources across the Internet are reporting that the Beduin may be up for an introduction at the North American International Auto Show in Detroit in January 2006.
Probabilitiy of happening: 75%

Rumor 6: Jetta Hybrid
Back in June, rumors of a Jetta Hybrid circulated in the Internet. Indeed, Volkswagen may have plans to introduce a Jetta Hybrid by 2008. No word, though, whether it will be released as a TDI hybrid.
Probability of happening: 65%

Rumor 7: Jetta CDI?
In October, news reports on the Internet indicated that Volkswagen will abandon their Pumpe Duse diesel engine technology in favour of common rail technology. This was confirmed in November during a sales managers meeting that Volkswagen will indeed switch to common rail technology beginning with the Jetta in July 2008, with the Passat to follow shortly after. Volkswagen's common rail engine may produce upwards to 130 HP, maybe more.
Probability of happneing: 55%

Rumor 8: Jetta Facelift
The VW Gazette reported in October that the Jetta may be receiving two facelifts, one minor and one major. The minor facelift on North American Jettas will involved replacing the painted valances with black ones, just like in European models. The Jetta will also get a 115 volt outlet standard as well as a means of connecting an iPod. Then, the major facelift comes for the MY2008 where the Jetta gets a new, Eos style front end and Passat type taillights, which means North American Jettas may finally get LEDs in the taillights. None of these facelifts have been confirmed, however.
Probability of happening: 40%

Rumor 9: Golf and Jetta R36
The VW Gazette reported in October that the Golf R36 has been slated to arrive in 16 months (as of this writing) with a 300 HP version of the Passat's 3.6L engine. Then, the Jetta R36 follows 6 months after the Golf R36, presumably with the same horsepower rating. So far, however, there have been no definite confirmations to these dates but no doubt, we will be getting them.
Probability of happening: 98%

Rumor 10: New Entry Level
Volkswagen may be bringing over a new entry level car in 2008 however Volkswagen isn't saying which model they plan on bringing over. Most likely it could be a Polo as the Fox may be too small for the North American market.
Probability of happening: 65%

Rumor 11: 13 New Models by 2008
According to some sources, Volkswagen intends to launch 13 new models in North America. Now, through the process of elimination, we can remove 9 from the 13 new models (MK.V Golf, GTI, facelifted New Beetle, Jetta, Jetta Wagon (in dealers by March 2007), GLI, Passat, Passat Wagon, Eos). That leaves us with 4 unknown models. The Passat Coupé, compact SUV, and minivan could be 3 of the 4 unknown models. The last model could either be the Scirocco or the entry level car. It should also be noted that an article in the January 2006 issue of Automobile Magazine seems to confirm 3 of the 4 models above (the Scirocco, compact SUV, and the Passat Coupé) but the article does not say anything about a minivan. At this point, anything is possible.
Probability of happening: 60%Rumor 13: TDI Discontinued
For the past few months, many sources have said that Volkswagen may pull their TDI engine from their lineup because of emissions regulations in 2007 in the US. Of course, it has began with the V10 TDI Touareg. Now, Volkswagen may have to pull their Jetta TDI model and we may never even see a Passat or Golf TDI in the future. It is not known, however, if this will affect Volkswagen's launch of common rail engines in 2008.
Probability of happening: 85%
Some rumors dispelled and some rumors remain rumors. One thing is for sure, 2006 will bring a lot of surprises as Volkswagen continues launching new models.