PC Power for the Eos
Posted by Lorenzo at 12:48 a.m.
Text and photo from Volkswagen AG.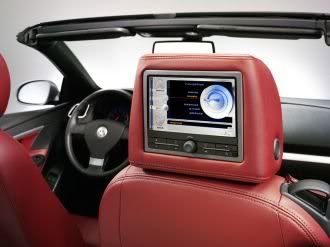 Volkswagen displays study at the CeBIT
Wolfsburg/Hanover, 06 March 2006 - At the CeBIT exhibition starting 9 March 2006, Volkswagen will be presenting a study on the Eos, in which tomorrow's multimedia and communication functions can be seen today.
The Eos study, which was created in collaboration with Microsoft, will be on display at the Microsoft stand in Hall 27, part of the new CeBIT special show "Digital Living"Digital consumer electronics make the Eos the mobile media centre of the road.


Based on a car PC from inperio Systems with an Intel Celeron Processor (650 MHz), a RAM with 256 MB and a hard drive with 20 GB the user enjoys all the functions that he has at home. The data processor is centrally located in the backrests of the rear seats. Both have 7 inch monitors installed in the head restraints of the front seats, as already known from rear seat entertainment.

The external keyboard or games consoles are connected via wireless LAN and the bandwidth of the car infotainment system can be utilised in full. In addition to a navigation system, pictures, videos, DVDs and music can also be played, even online work is possible. Emails can be sent and received, or you can communicate directly and in realtime with business partners and friends via a messenger. Information from the internet is accessed via the Internet Explorer

Starting at €25, 950 the Eos will be launched in summer this year