Westfalia Redux
Posted by Lorenzo at 10:40 a.m.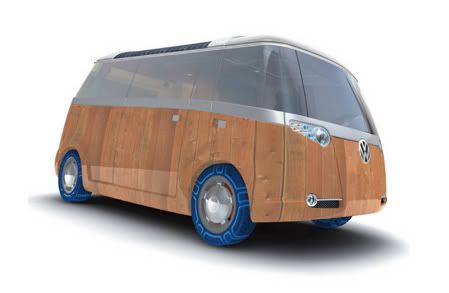 Get ready for a Westfalia redux. French-Canadian designer Alexandre Verdier has designed an updated version of Volkswagen's famous Westfalia. This design, which is still an early concept, retains all the functionality of the old Westfalia then builds on it, all contained inside a package that pays homage to the classic VW.
More photos after the jump.


The design still utilized the pop top but now rises straight up instead of tilted on the old Westfalia. The roof does double duty producing adequate electric power through solar panels mounted on the roof. Functionality continues inside with seatbacks that transform into stairs for easy access to the second level. Indeed, this new iteration also includes a kitchenette, which swings out of the van. The van even includes a set of fold-out chairs, which store neatly in a drawer in the back.

Design-wise, the Westfalia is as modern as any road car in today's standards. Clean lines, pillarless greenhouse, and possibly some LED lighting.

Don't hold your breath, however, waiting for this to reach showrooms. Verdier is still looking for a company to partner with.


Photos from Verdier.ca via Autoblog