Volkswagen shows off Automobile of the Year award
Posted by Lorenzo at 7:01 p.m.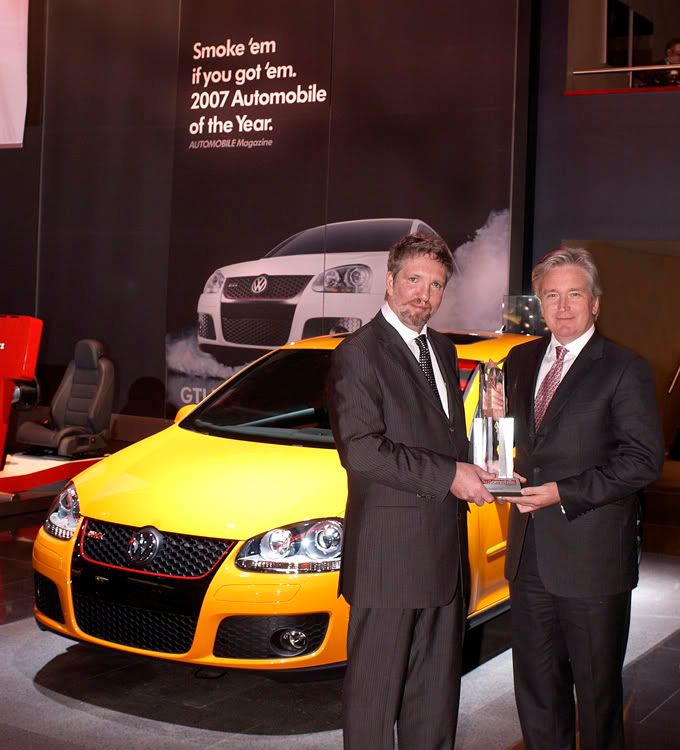 We've already
broke this story
for you a few days ago but for those who just came out from under a rock this past weekend, the GTI making Automobile Magazine's Automobile of the Year is no small accomplishment. Volkswagen and Automobile Magazine made the awarding official, with Automobile Magazine's editor-in-chief Gavin Conway handing over the token trophy to Volkswagen of America's executive VP Adrian Hallmark at the North American International Auto Show in Detroit.
Volkswagen's press release after the jump.




Source: Volkswagen of America.


AUBURN HILLS, Mich. – Volkswagen of America, Inc. announced today that the sporty GTI has been named AUTOMOBILE Magazine 2007 Automobile of the Year. The magazine profiles the GTI in its February 2007 issue, on stands now, and presented Volkswagen with a trophy at the North American International Auto Show in Detroit.

AUTOMOBILE Magazine commended the GTI's high-tech, 200-horsepower 2.0T four-cylinder engine that produces 207 ft.-lbs. of torque, noting that its DSG™ gearbox "is simply the best automatic-type transmission we've ever driven."

The 2007 GTI is a solid and aggressive sports model with an available automated manual DSG® transmission that utilizes direct shifting, which essentially automatically depresses clutch-shift points more efficiently and quicker than even a professional driver can. For those driving enthusiasts who want the unique control of a clutch, the GTI comes with a standard six-speed manual transmission. Top speed is electronically governed at 130 miles per hour in the U.S.

First introduced in the U.S. in 1983, the GTI quickly drew admiration for its combination of sporty performance and practicality. The 2007 GTI is Volkswagen's definitive return to its groundbreaking, hot hatch sports car concept, offering enthusiasts a modern and dynamic extension of the automaker's original "pocket rocket."

The GTI starts at $22,730. AUTOMOBILE Magazine notes that the GTI "feels like it has more build quality than anything within miles of its price point."

Founded in 1955, Volkswagen of America, Inc. is headquartered in Auburn Hills, Michigan. It is a subsidiary of Volkswagen AG, headquartered in Wolfsburg, Germany. Volkswagen is one of the world's largest producers of passenger cars and Europe's largest automaker. Volkswagen sells the Rabbit, New Beetle, New Beetle convertible, GTI, Jetta, GLI, Passat, Passat wagon, Eos, and Touareg through approximately 600 independent U.S. dealers. Visit Volkswagen of America online at vw.com.