Volkswagen to Offer Two Golf Models Designed by Trainees
Posted by Lorenzo at 1:55 a.m.
Text and photo from Inside Line.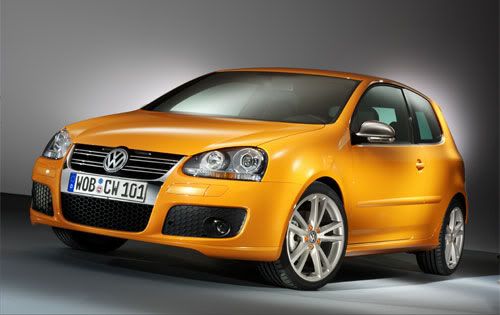 WOLFSBURG, Germany — After receiving enthusiastic feedback at summer exhibitions, Volkswagen is producing two Golf prototypes that company trainees had produced. One hundred units of each are being built this year in Germany and sold worldwide.
The Golfs' names, "Yellow Speed" and "Orange Speed," reflect their exterior colors — before offered only on Lamborghini sports cars. Other external features include double central exhaust pipes, chrome-plated grille and mirror surroundings, 18-inch alloy wheels and a small wing at the rear.
The sport steering wheel and seats were lifted from the Volkswagen GTI but now are covered in leather. The center of the steering wheel reflects the exterior color, and features a serial number.
Pricing starts at $37,300.