Volkswagen at Los Angeles and Detroit
Posted by Lorenzo at 4:04 p.m.
Text and photos from Volkswagen of America.
AUBURN HILLS, Mich. — Volkswagen America, Inc., for the second straight year, is revealing a showroom full of all-new, highly anticipated cars at the new year's first major auto shows back to back in Los Angeles and Detroit. For example, the new Passat Wagon debuts on the first public day, Saturday, February 7, at the Los Angeles Auto Show and just a day later on Volkswagen's display floor during the first press day at the Detroit International Auto Show on Sunday afternoon, January 8.
THE ALL-NEW 2006 GTI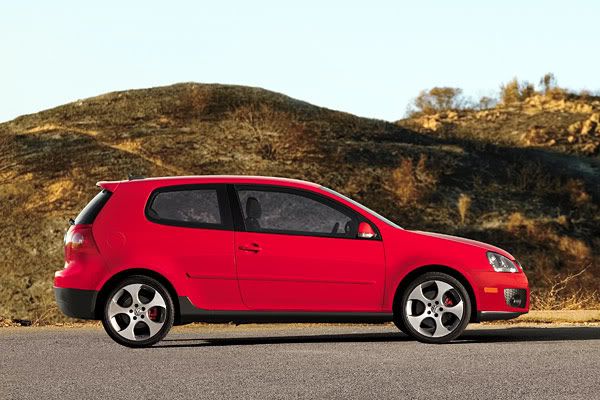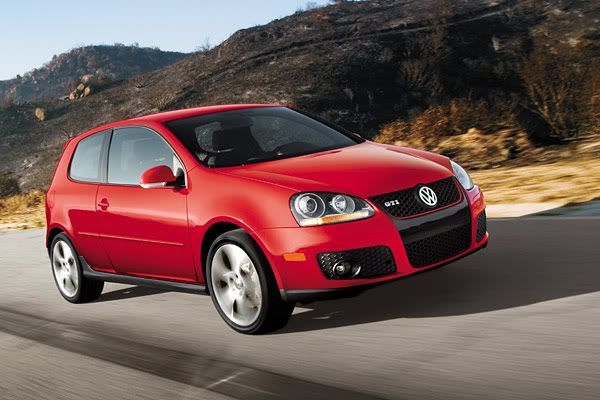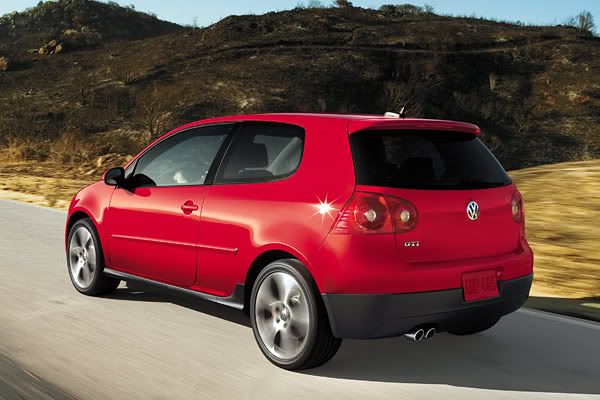 The German automaker revealed—for the first time at a North American press conference—U.S. production versions of its famous GTI model, whose distinct styling and more aggressive character mark a return to the purity of Volkswagen's sports car hatchback concept. This new GTI, which goes on sale this month, was built from the beginning for the true Volkswagen purist and promises the brand's faithful a modern and dynamic technological extension of the automaker's original hot-hatch approach--one that essentially spurred a new car class in the early 1980s.
Enthusiasts of the first real "pocket rocket" update only need to wait about two weeks before the 2006 all-new GTI hits showrooms.
Originally, Volkswagen launched the GTI nearly 30 years ago in Europe and, finally, with drivers spreading the news across the Atlantic Ocean, it brought the original "pocket rocket" to U.S. shores in 1983. Purists of the GTI concept have anticipated this fifth generation since its critically acclaimed European launch in mid-year 2005, with rejuvenated sports credentials that include the high-tech, 200 horsepower 2.0T four-cylinder engine, a new fully independent, sports-tuned suspension—a first for the GTI—a standard six-speed manual transmission, and an understated but dynamically aggressive style inside and out.
The new GTI is a solid and aggressive sports model with a unique optional automatic manual DSGTM transmission that utilizes the inherent efficiencies of direct manual shifting that can automatically engage the points or take shifting orders at the driver's whim. Still, the GTI is all about purity, and for those who accept only the added driver's control of a clutch, the all-new GTI comes with a standard six-speed manual transmission. Top speed is electronically governed at 130 miles per hour in the U.S.
The true Volkswagen GTI driver knows the strong foundation of his or her decision. The GTI is based wholly on one of the world's most popular and enduring models—the Volkswagen Golf. This fifth-generation Golf platform is renowned for its solidity and sophistication that make it one of the best-selling models in the world. It is built in Wolfsburg, Germany, the home of Volkswagen.
With the heart and soul of a Golf, the new GTI records double-digit improvements in its dynamic and torsional rigidity—15 percent and 35 percent, respectively, to be exact. This is German engineering at its foundation and partially achieved through the use of more high-strength body panels, and Volkswagen's world-class design and production processes that only use the most advanced laser-welding systems and check points. The result is a dramatic increase in precise laser-welded seams, normally reserved for cars in much higher segments of the market. The net benefit of such a laser-bonding process is a class-leading fit and finish, heightened body strength, crash protection, dialed-in driving dynamics, and reduced interior noise—all key components that set the GTI far above its hatchback competitors.
The performance heart of the new 2006 GTI is Volkswagen's new and highly regarded 2.0T turbocharged four-cylinder engine producing 200 hp at 5,100 to 6,000 revolutions per minute and 207 ft.-lbs. of torque from 1,800 to 5,000 rpm.
This transverse, front-mounted engine incorporates dual overhead camshafts, four valves per cylinder, and maintenance-free hydraulic lifters for smooth, worry-free operation. A fully electronic engine management system includes drive-by-wire throttle control and FSI direct injection for optimal fuel delivery.
Known for being a "wolf in sheep's clothing," the new 2006 GTI shows a bit more fang with its distinctly, pleasantly aggressive, sports-car styling. More than ever, it is distinguished from its rock solid sibling, the new-generation Golf, including the most striking front end ever. The new GTI's front offers no confusion with the upcoming Golf, employing a black honeycomb design with a decisive red frame strip outlining the radiator portion. This same honeycomb design carries to the lower grille sections, which hosts standard halogen fog lights, and resemble extra air intakes that flow powerfully to the integrated front spoiler. The driving intensity of the front is accentuated by the eyes of the car, the headlight housings, which use a very clear, tech-looking case to show off high-intensity gas-discharged headlamps (Xenon). This system includes a well-disguised headlight washer system that cleanses the chip-resistant polycarbonate lenses. Completing the look is the GTI's famous badge that sits proudly at the front of the car on the passenger's side.
The GTI plays devilishly with the famous silhouette of the new Golf. At profile, one immediately notes the new GTI's striking roof spoiler, lower profile and use of aggressive black valances and side window moldings. Standard on the new GTI are low profile summer performance tires (all-season available) that wrap large 17-inch alloy wheels, with an option to fill the wheel area even further with a new dynamic 18-inch alloy. Distinct red brake calipers nestle tastefully behind each wheel choice.
At the rear, the GTI badge, aligning to the driver's side, is attached to the hatch door; dual chrome tail pipes add more evidence to the car's performance intentions along with the aggressive swath of the rear spoiler with an integrated, highly visible rear brake light, bumper valance and sophisticated, jewel-like round rear tail lamps.
GTI enthusiasts should feel at home behind the wheel of the new GTI, which again advances the purity of the GTI concept but in a modern and sophisticated execution. GTI-exclusive interior treatments include special alloy treatments throughout, from the interior door sills, to the door handles to the distinct treatments for the pedals (including dead pedal with the DSG transmission), to mention a few. Inside, sporty brushed-metal accents abound, and the instrument panel gauges are aluminum and black with a chrome surround.
The new GTI's driving environment begins with its unique three-spoke, leather- wrapped multi-function sport steering wheel with audio and telephone controls that, as found in all Volkswagens, is adjustable and telescoping for optimal driving positioning. This sporty driver's tool adds paddle shifters on both sides of the wheel when the optional DSG transmission is added.
Seats, as one expects in a model with this pedigree, are sports designed with ample bolsters for the demands of more spirited driving, with adjustable lumbar support in both front seats. Eight-way, manual sport fabric seats are standard with adjustable head restraints for all seating positions.
The standard stereo system in the new GTI befits its road manners with a premium 10-speaker AM/FM radio sound system with in-dash single CD player, MP3 format readable, satellite radio compatible for either XM® or SIRIUSä and theft deterrence.
Two basic GTI option packages are available. The first adds a power sunroof, and satellite radio for a choice of XM or SIRIUS service. The second option package includes Climatronicä dual-zone automatic climate control, top-level front sport seats with leather seating surfaces and power lumbar support adjustment, heated front seats, and heated windshield washer nozzles.
While employing the basic tried-and-true independent McPherson strut architecture, the new GTI handling is enhanced by a number of revisions that include a new strut-type set-up that helps create a more direct steering ratio; higher transversal axle rigidity and a lowered tendency to exhibit body roll on tight turns. This new architecture also uses separate mountings of springs and dampers and allows for improved lower track control arm mounting points, and the use of twin-sleeve shock absorbers.
At the rear, for the first time, the new GTI comes equipped with an advanced multi-link independent rear suspension. This feature promises not only to improve the GTI's handling characteristics but also helps improve the balance of offering sporty driving dynamics and ride sophistication. This fully independent four-link suspension, with coil springs, telescopic shocks and stabilizer bar, also allowed the designers and engineers to create more space and practicality into the GTI.
As seen on nearly all new Volkswagens, handling performance is honed to perfection by a new electro-mechanical power rack-and-pinion steering system, one which offers an extremely good "center feel" and contributes significantly to the new car's confident straight-line stability. The GTI driver gets that special German connected-to-the-road feel but also the added handling confidence of active-return steering and straight-ahead driving correction assistance.
Additionally the list of technologically advanced standard equipment on the new GTI includes: next-generation Electronic Stabilization Program; and a multi-function trip computer with compass and instant calculations for elapsed time and distance and fuel usage, to mention a few. In addition to its active safety features, the GTI comes standard with a host of passive safety equipment: driver and front passenger front airbags, driver and front passenger side thorax airbags, Side Curtain Protection® supplemental restraint systems; crash active front headrests; and Daytime Running Lights.
THE NEW 2007 PASSAT WAGON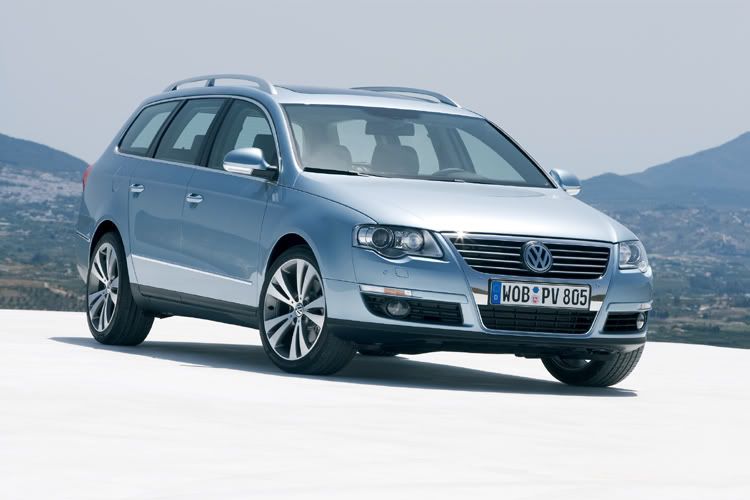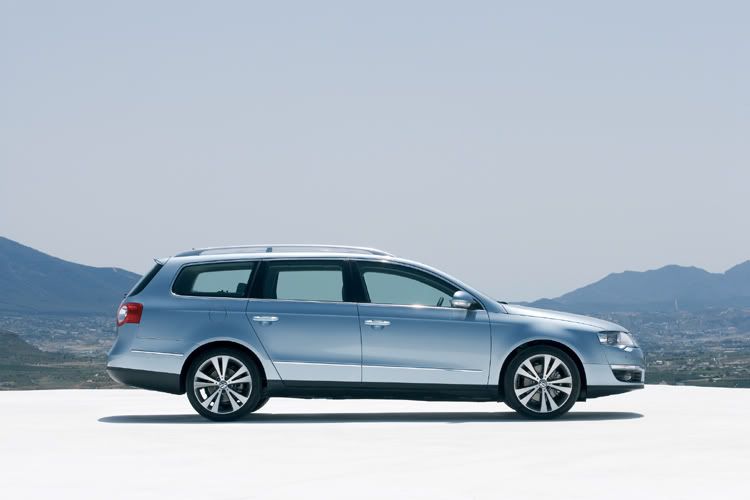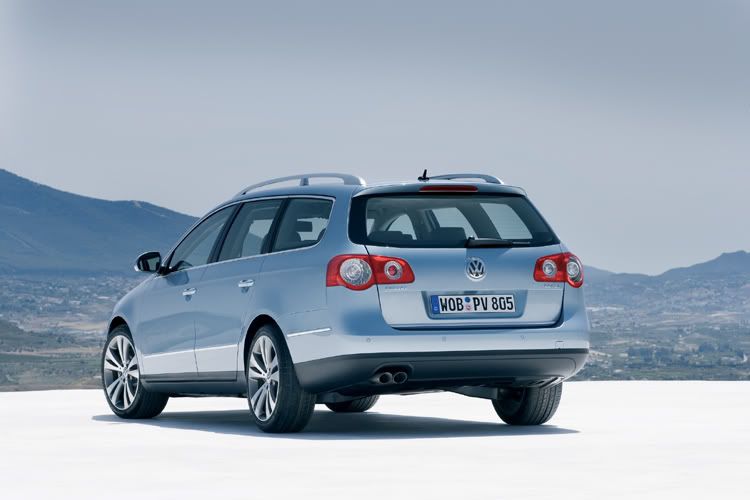 Debuting concurrently for the first time in North America at both the Los Angeles Auto Show (public days) and the press days of the Detroit International Auto Show, the new 2007 Passat wagon promises a family car that puts a grin on every occupant's face—with the most prominent pasted on the driver's.
The Passat model, which forever changed the attitude that an affordable family size car needed to be a common and sensible wagon-size hauler, is again helping make the prospect of being responsible a heck of a lot of fun too.
The new 2007 Passat wagon arrives at dealerships across the country beginning early this year and is the only truly German-built family midsize wagon in its competitive set. Just as its predecessor, this newest Volkswagen Passat wagon still represents the market's most accessible German-made wagon choice with this much room, comfort and sophisticated technology and engineering.
The new Passat wagon's base engine is upgraded to a sophisticated new four-cylinder engine called the 2.0T. This two-liter is efficient and sporty and uses a turbocharger and an intercooler for cool, higher-density intake air. The 2.0T's high-end breathing is further enhanced by its four-valves per cylinder with variable valve timing. The engine's overall efficiency begins with an advanced direct-injection fuel delivery system that culminates in 200 hp at 5,100 rpm and 207 lbs.-ft. of torque all the way from 1,800 rpm to 5,000 rpm—an extraordinary torque curve that provides plenty of pulling power from the low end through the top.
Soon after the launch of this new 2.0T engine, Volkswagen's renowned narrow-angle six-cylinder technology will make its return to the Passat wagon. With the Passat's return to a transverse engine mount, Volkswagen will re-introduce a very refined and powerful version of its famous narrow-angle V6 (widely known as the VR6; this version's cylinder banks create a "V" angle of just 10.6 º). This newly advanced V6 engine has higher displacement, four-valves-per-cylinder, and variable valve timing, and promises 280 hp at 6,200 rpm and 265 lbs.-ft., at just 2,750. Mated to this ultimate V6, as standard equipment, will be Volkswagen's refined six-speed automatic transmission with Tiptronic™ and sport mode selection (no plans for a manual).
Volkswagen will once again offer the Passat wagon in an all-wheel-version lineup as well (3.6 L only). In fact both the sedan and its variant will offer Volkswagen's renowned, electronically controlled 4Motion® (all-wheel-drive) version by next month in most dealerships. Models will therefore include in both body styles: a Passat "Value Edition" 2.0T; a Passat 2.0T; a Passat 3.6 L; and soon a 3.6 L 4Motion.
The new Passat wagon is distinctly styled from its already groundbreaking sedan version just launched last fall in the U.S. market. As expected in a modern Volkswagen, the all-new 2007 Passat wagon has been stridently refined and moves closer than ever to perfection in its attention to detail, advanced technology, Teutonic driving qualities and uncompromising safety design and features.
To keep well ahead of the competition, Volkswagen's designers have breathed new passion and power into the wagon's traditional look, giving it a distinct spatial presence that exudes a strong and athletic tension that belies its extra utility.
Still, Volkswagen's designers—who created the dictum of form follows function— never compromise functionality for frivolous design, and this is abundantly true in the new Passat wagon. Yet the new Passat wagon is a sculpted car that is characterized with an almost avant-garde on-road presence and class—one that is clearly muscular and silently demanding of respect.
And like its sedan sibling, the new Passat wagon goes proudly into the hustle and bustle of life with a new medallion-shaped grille accented by brilliantly clear, clean, high-tech headlight housings that exude the precision engineering and advanced production of this new leader of the affordable family wagon class.
The new Passat wagon simply offers more of everything. Its outward dimensions offer better cargo room and critical increases in passenger space. The outward dimensions increase in overall length to188 inches versus the previous model's 184.3 inches; width is also improved to 71.7 inches versus the previous 68.7 inches. Height for the 2007 wagon is a streamlined 59.7 inches (up .7 inches). All of this translates to larger areas for people and things.
The body is also wider as well (71.7 inches as opposed to 68.7). Stability in general is further enhanced with a wider track Passat layout, both at the front and rear, which measures 61.1 inches (previously 59.6).
A clear indication of the new Passat wagon's quality foundation is its static torsion stiffness that is measured at better than 50 percent higher level than its predecessor's already solid static rigidity. Dynamically, the new Passat also improves on the Passat's traditionally stiff driving tolerances.
Inside, a simple glance reveals another evolution in Volkswagen's renowned interior design and simple but unrelenting attention to detail. Residing in a new Passat is again a unique and progressive automotive experience: whether at the wheel or riding in the front or rear, the occupants find a fresh, stylish, modern design that remains strikingly simple with use of top quality materials, attention to comfort, driving and details throughout all models – from the standard trim level that symbolizes Volkswagen's commitment to value for the money, to the top-levels such as those found in numerous equipment options and stand-alone packages.
More exterior room for the new Passat certainly translates into more width and legroom, especially in the rear seating area, where it grows from 35.3 to 37.7 inches. New rear vents for the standard air conditioning and heater also provide more comfort at the car's stern. Overall, the new Passat provides 97.1 cubic feet of passenger volume (versus 93 cu.ft. in today's version).
As one expects of Volkswagens, the new Passat embodies the German engineering mandate of building ever-higher levels of advanced occupant protection with each new generation of car. The previous Passat sedan and wagon were proven to be among the safest vehicles on the roads of America, regardless of vehicle class or weight. In the most important "real world" study of its type, the highly regarded Insurance Institute for Highway Safety studied data from serious accidents and measured the third safest vehicle of any type on the road (see IIHS "Status Report, March, 2005"). Crash tests proved this in the government and IIHS lab tests as well. The 2006 Volkswagen Passat sedan has earned a 2006 "Double Best Pick" designation for outstanding performance in front and side tests conducted by the Insurance Institute for Highway Safety (IIHS). The Passat earned the top rating in every individual measurement category (head protection, injuries and structural design) for both the side impact and frontal tests.
The 2007 Passat wagon is now the newest example of Volkswagen's reputation for safety, and it brings true Autobahn-bred safety development and features to this family car segment by employing the most comprehensive standard list of advanced passive and active safety technology in its class. Safety is tantamount in the creation of a new Volkswagen, which is why the German automaker's overriding philosophy is to bring the most sophisticated safety technology to the widest range of models when feasible.
Major standard safety items for the newest Volkswagen – many of which have been updated with the latest technology but have been standard on Passats for several years – include eight total airbags, including front side thorax airbags and Side Curtain Protection® (head) in the front and rear.
To help in safety protection, a few of the passive features offered are standard crash-active front headrests, Daytime Running Lights (DRL), three-point safety belts, and adjustable headrests for all five occupants. And where details and precision positioning count the most, Volkswagen has made sure all outboard occupants are able to easily position their safety belts with shoulder height adjustments. Front belts use pre-tensioners with load limiters, and all safety belts use emergency locking retractors. Rear side thorax airbags are optional for the first time ever in a Passat, and, if chosen, will supplement the standard head curtain protection system.
As expected in a Passat, active safety also is tantamount to the development of Volkswagens, and the 2007 Passat wagon is no exception and arguably among the leaders in its segments in offering a list of performance items that can help avoid accidents in the first place, including the stability and surefootedness of a precise-handling front-drive sedan, with standard four-wheel disc ABS brakes that are coupled with a sophisticated Engine Braking Assist system. Another major technical advancement in the new Passat wagon is the standard Servotronic® power steering system that can help assist with straight-ahead driving adjustments when necessary—an example of this could be freeway driving through strong crosswinds. All Passats come standard with an Electronic Stabilization Program—an active safety item that is being recognized through independent research to be an increasing vital safety feature – Anti-Slip Regulation (ASR) and Electronic Differential Locking (EDL). Of course, later in 2006 all wheel drive comes with 4Motion.
The new Passat employs an advanced version of the tried-and-true independent McPherson strut architecture. The car's strut-type axle creates a very desirable direct steering ratio, a high level of transversal axle rigidity and a low tendency to allow body roll on tight turns. At the rear, the new Passat wagon now is equipped with an advanced multi-link independent rear suspension.
EOS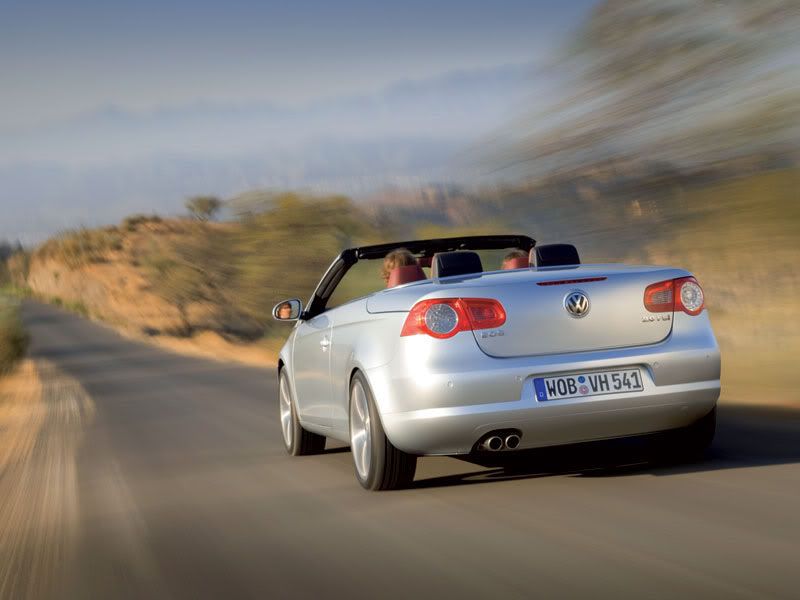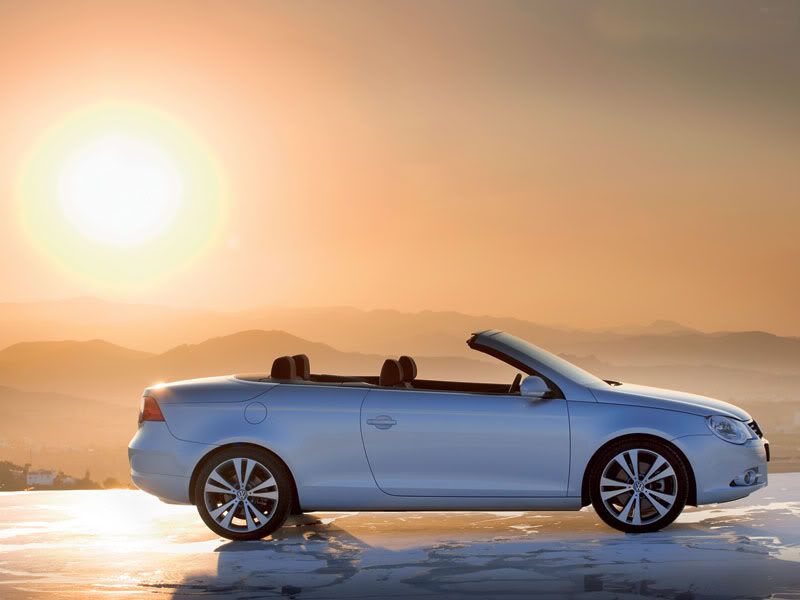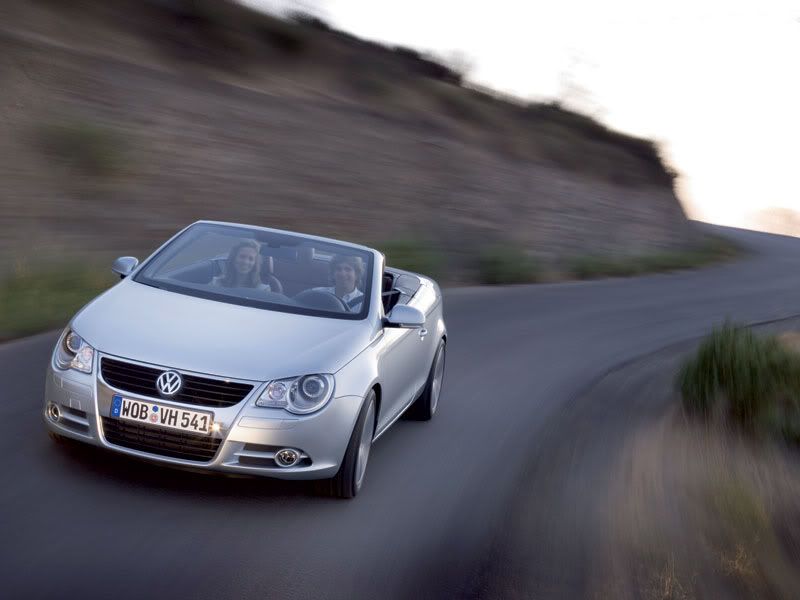 Only a few months after debuting at the Geneva Automobile Show, Volkswagen of America now presents a new series version of Volkswagen's high-emotion new convertible coupé in the form of the Eos at the Los Angeles and Detroit Motor show shortly thereafter. This is the world's first four-seater car with a five-section CSC (coupe, sunroof, convertible) roof; the folding hard top combines the characteristics of a coupé, sliding and convertible roof, thereby unifying three different car concepts to form a whole.
Consistently new emotional design that can only be a Volkswagen original

CSC design:
When closed, the CSC roof curves in an arc between the rear end and the windscreen, giving rise to an outstanding coupé roof which is both elegant and sporty. The roof's curve is elongated, the rear end muscular and the overall impression is one of high quality. When the roof is open, the 173.6 inch long and 70.5 inch wide Eos also clearly reveals that it has been specifically developed as a convertible coupé, and that its body concept has not been derived from any other model in existence. The CSC roof has enabled the windscreen frame to be kept short and the rear compact, lending the vehicle sensuous proportions in the style of a classic convertible.
CSC characteristics:
The five-section CSC structure offers not only optical, but also practical advantages. Firstly, pure convertible feeling. As the windscreen frame – the roof cross member, to be perfectly accurate – projects far less into the interior than is the case with many similar solutions, there is nothing above the driver and front passenger but blue skies. Secondly, optimum entry and exiting. The shorter windscreen frame makes it easier to get into the Eos when the top is down, as the driver or passenger does not have to maneuver his head past the frame. Thirdly, the integrated glass/sliding/tilting roof, because the sun does not always shine, nor is it always summer. In such cases, the glass/sliding/tilting roof fitted in the Eos lets in light, air and good humor. Full opening and closing are very speedy, by the way, taking around 25 seconds from the first "clack" to the last "click". The system concludes the process with a signal tone, confirming that the roof is either open or closed completely. In addition, the CSC roof offers the general advantages of unimpeded suitability throughout the year and minimal driving noise when closed. It is also less appealing to vandals than a soft top. Of course, a roll-over protection system, which shoots out within a maximum of 0.25 seconds increases safety in critical situations.
Very wide and powerful

Dimensions:
The convertible coupé is 70.5 inches wide, 173.6 inches long and 56.8 inches high. In relation to each other, these dimensions enhance the vehicle's dynamics. In comparison with its length and height, the vehicle's width lends the Eos a particularly powerful appearance. Its large track width (over 60.8 inches) not only looks good, it also contributes extensively towards the extraordinarily agile and safe handling characteristics exhibited by the Eos. The result is pure driving enjoyment regardless of whether the roof is up or down.
Engines:
In the U.S., still months from its debut, Volkswagen of America will offer the renowned 2.0T, 200 horsepower, four cylinder and a 3.2, 250 hp version of its narrow angle V6.
Sporty, elegant interior

Passenger compartment:
The interior design is also new. While the functional and operating details (e.g. light, air conditioning, radio systems) are familiar from other models, many fundamental Eos elements are new developments. These include the cockpit, the door and side trim panels and the rear seat system. Volkswagen is additionally offering electrically activated easy-entry seats for the first time. These "remember" the driver's and front passenger's longitudinal seating positions, and return to these – once the rear passengers have entered or exited the vehicle – at the push of a button. As standard, a power latching system closes the boot lid the last few millimeters. A load through aperture is additionally integrated into the rear bench seat.
One equipment version, many equipment details

Equipment:
The Eos will be launched with many high-quality equipment features. Standard features will include ESP, safety-optimized front headrests, front airbags and specially developed front side head-thorax airbags; 16" alloy wheels (V6: 17"), air conditioning system, fog lights, power windows, and ambient lighting. Optionally, innovative features such as a Dynaudio sound system with ten-channel amplifier, ten loudspeakers and 600 W output power or bi-xenon headlights with dynamic and static cornering lights will be available for the Eos.
For added assurance, all new Volkswagen automobiles come with 24-hour Roadside Assistance for four years with unlimited mileage, and new vehicle warranties including:
Five-year/60,000 mile (whichever occurs first) Powertrain Limited Warranty.
Four-year/50,000 mile (whichever occurs first) New Vehicle Limited Warranty with wear and tear items and adjustments excluded after the initial 12 months/12,000 miles
12-year unlimited distance Limited Warranty against corrosion perforation.