Passat's Aerodynamic Appearance Package Debuts at New York
Posted by Lorenzo at 4:32 p.m.
Text from Volkswagen of America. Image courtesy of The Car Lounge.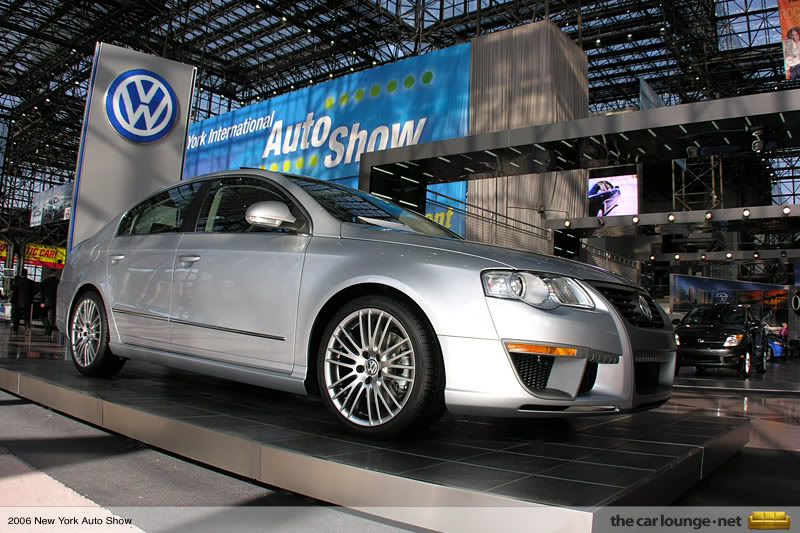 NEW YORK CITY – At the New York International Auto Show, Volkswagen of America, Inc., will feature a Passat equipped with an appearance package inspired by the Passat R GT that was shown at the Specialty Equipment Market Association's (SEMA) annual exhibition in November 2005. Although the vehicle was a concept, rave reviews from fans prompted Volkswagen to offer the package as an option on new Passats.


The appearance package creates a racy and aggressive look for the Passat with front and rear skirts with color contrasting elements, a honeycomb-designed grille, side sill kit, a harmonically integrated tailgate lip, oval-shaped tail pipe trim and 18-inch titanium colored alloy wheels, wrapped with 235/45R18 high-performance summer Pirelli tires. The vehicle's stance is also lowered with the addition of performance lowering springs. The aerodynamic package improves the car's downward force on the road.

The Passat R GT concept and appearance package are the result of Volkswagen's Moonraker project, a team of employees whose mission is to generate vehicles and options specifically designed for the unique trends in the U.S. marketplace.

The Passat aerodynamic appearance package will be available as an option, installed at the port of delivery, for $4,500 starting this fall. Customers will also be able to purchase the components a la carte as each of the pieces will be available for sale individually at all Volkswagen Dealerships.

Volkswagen will display a packaged Passat at the North Concourse of the Javits Center during the New York Auto Show, April 12-23.

Founded in 1955, Volkswagen of America, Inc. is headquartered in Auburn Hills, Michigan. It is a subsidiary of Volkswagen AG, headquartered in Wolfsburg, Germany. Volkswagen is one of the world's largest producers of passenger cars and Europe's largest automaker. Volkswagen sells the Rabbit, New Beetle, Jetta, Passat, Touareg and Phaeton through more than 600 independent U.S. dealers.