Is the GX3 Dead?
Posted by Lorenzo at 3:39 p.m.
Text from AutoWeek.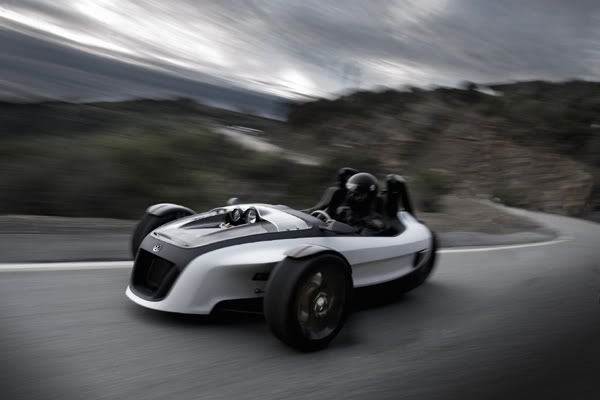 Volkswagen is poised to kill the wacky 125-mph three-wheel GX3 shown as a concept at January's Los Angeles auto show.
Though production and U.S. sales appeared likely a month ago, GX3's future is in doubt over worries it could create huge legal bills for VW under U.S. liability laws.
The low-slung GX3 legally would have been considered a motorcycle, meaning VW could have engineered it to different standards than a car. But blurring the line between cycle and car could be too risky.


"It was somewhere between the two—a motorcycle and a car—and that is a problem," says a source close to the project.

A final decision is still "some weeks away," but insiders are resigned to the GX3 dying despite thousands of hours of research and development and design work.

"It's not final yet, but things have really changed in the last few weeks," says a source, "and we don't think we can do it."

Lotus Engineering's ride and handling experts had been evaluating the GX3 at Hethel, and the company also was advising on low-volume production methods.

Only a few weeks ago VW insiders were confident the GX3 would get the green light, with a production start in mid-2007. VW had even decided to build the car in the United States and was searching for a production base.

VW recently told its U.S. dealers that each of them would be offered the GX3 for sale, but dealers—such as those in Snow Belt states—could opt out if they projected minimal sales.