Passat R36 Spied
Posted by Lorenzo at 9:37 a.m.
Image source: Car Magazine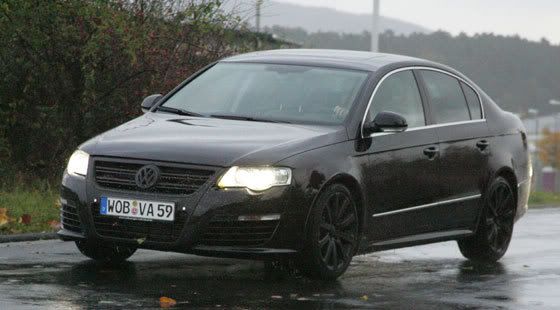 Back in July, Volkswagen had finally confirmed that a range-topping Passat R36 was forthcoming. Here we are today, just a few months after that confirmation and we finally get the very first shots of the Passat R36. Indeed, these photos look like any run of the mill Passat however it is what's behind the grille which makes the difference: a 3.6L V6 producing 280 hp engine that is only currently offered in North America.
Details remain sketchy. The Passat R36 should be getting 4Motion all-wheel drive, as well as a choice of either a six-speed manual or DSG. A subtle bodykit will be included to set the Passat R36 apart. The spyshots indicate a twin exhaust and a rear spoiler for the wagon version.
Expect the Passat R36 to hit showrooms in early 2007. The question remains, however, if North America will see the R36 on our shores. Either the answer to that is no or Volkswagen plans on upping the horsepower. Let's hope for the latter.