Volkswagen One Step Closer to a Pickup?
Posted by Lorenzo at 11:27 a.m.
Image source: Autoscoops.eu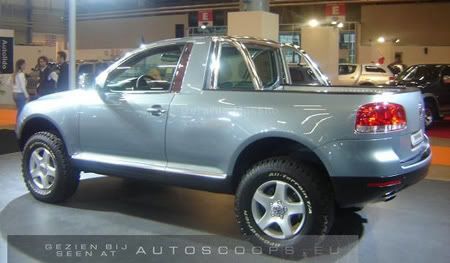 Back in 2000, Volkswagen showed off a pickup truck concept called the AAC at the North American International Auto Show in Detroit. Being the precursor to the Touareg, some thought Volkswagen was going in the pickup truck direction. Fast forward to 2003, the Touareg comes out with identical front ends with the AAC but no bed at the back. Eventually, any chance of a pickup from Volkswagen died down. Last year, however,
we reported
that Volkswagen may again be seeing a pickup in their future, more precisely, in 2007.
Volkswagen now seems to be one step closer to brining the AAC to reality. Volkswagen Individual, popular for creating the strech limo
Phaeton Lounge
, has shown a Touareg pickup at some auto show in Italy.
The Touareg pickup is a complete evolution from the AAC. The Touareg sheds the concept's suicide doors making for a more compact and sporty looking truck. The bed is lined with diamond plate to take a beating. Other than that, however, not much is known about the Touareg pickup.
More than likely, this is Individual stretching its muscles showing the world what it can do with the Touareg. In reality, there may really be no market for a pickup from Volkswagen. Will we see a pickup next year? Not too likely.
More pictures after the jump.