Phaeton Facelift
Posted by Lorenzo at 9:44 a.m.
Image source: World Car Fans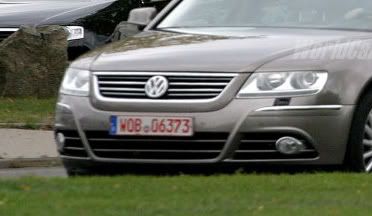 The Phaeton is the only sedan on Volkswagen's lineup that has yet to receive the new corporate grille. However, Volkswagen's designers have finally gotten around to updating the uber-sedan, making it more in line with other Volkswagen vehicles.
All the changes are up front. The Phaeton finally receives what looks to be reminiscent of Volkswagen's now (in)famous grille. Indeed, the whole front end receives a treatment from the bumpers to the hood. Changes trickle down inside in the very slightest with the Phaeton now receiving a DVD navigation, which replaces the aged CD technology.
The facelift should keep everyone preoccupied while Volkswagen designers prep the Phaeton's replacement. Think coupé lines, Mercedes Benz CLS. Phaeton 2.0 will be downgraded half a class to prevent it from competing with the Audi A8 however it will still be placed higher than the Passat. No word yet on whether North America will even see the replacement when it debuts in 2009.