Volkswagen May Adopt Audi's MMI
Posted by Lorenzo at 7:39 p.m.
Text from What Car?.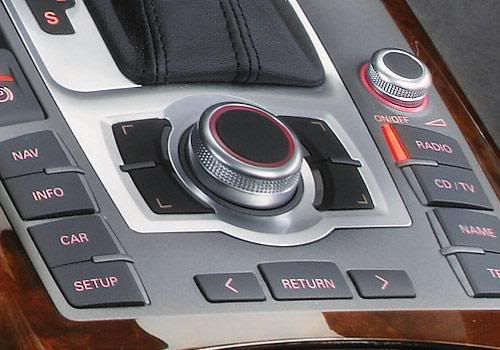 Volkswagen could start using sister company Audi's Multi-Media Interface multi-controller to limit the amount of switchgear in its cars' cabins.
The EcoRacer concept car, unveiled at last week's Tokyo Motor Show, is the first VW to be fitted with Audi's MMI system.
MMI is a rival system to BMW's controversial iDrive set-up and uses a single rotary push-and-twist button and a series of 'soft keys' (multi-function keys like those on a mobile phone) to operate a digital menu displayed on the centre console.
In the sportscar concept, the MMI controls the car's satellite-navigation, telephone and stereo functions. Expect to see a similar system in production VWs in the next few years.
Volkswagen, which owns Audi, Skoda, Seat, Lamborghini and Bugatti, has a history of introducing new technology on one brand before cascading it across other ranges. It did this with the DSG paddle-shift automated manual gearbox and its fuel-saving FSI direct-injection technology.