The Eos brings sexy back
Posted by Lorenzo at 9:52 p.m.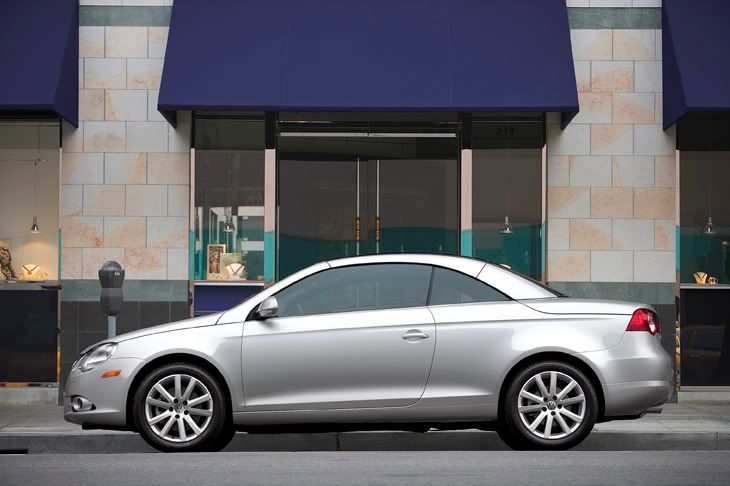 Here's one you don't hear often, especially with Volkswagen cars of late.
Road & Travel
magazine has named the Eos one of the top ten sexiest cars in 2007.
Road & Travel
says that the Eos is "the best of all worlds", citing elegant lines, engine choices, DSG, and the fantastic Coupe-Sunroof-Convertible feature as reasons.
Volkswagen's press release is after the jump.
Source: Volkswagen of America




New Hard Top Convertible Named to ROAD & TRAVEL Magazine's Top Ten Sexy Cars List



AUBURN HILLS, Mich. — Volkswagen of America, Inc. has announced that ROAD & TRAVEL Magazine has named the Eos convertible one of the top 10 sexiest cars for 2007.

In the 11th annual Sexy Car Buyer's Guide, ROAD & TRAVEL Magazine (RTM) cites the Eos, with its coupe-sunroof-convertible (CSC)TM and price under $30,000, as "the best of all worlds. A road runner with simple, elegant lines [and] just enough trim in the right places." Open top motoring, combined with the powerful 2.0T, 200 horsepower four-cylinder engine or a 3.6 L 250 hp V6 engine mated to the dual-clutch, DSG® six-speed transmission makes the Eos an exciting vehicle and fun to drive.

"We're very proud of the Eos and the recent accolades it has received from the automotive industry, including a strong showing in the J.D. Power APEAL study and now from ROAD & TRAVEL Magazine," said Susan Kelke, North American launch and model manager. "It has become a strong halo vehicle for Volkswagen, representing the best of German engineering and styling and a fun-to-drive quotient for consumers."

"The July 'Romance Issue' (www.roadandtravel.com) provides a full review of the top ten vehicles and what makes each specific automobile sizzle and satisfy," said Courtney Caldwell, editor-in-chief, ROAD & TRAVEL Magazine. "Test driven by RTM editors, these revved-up roadsters are sure to leave drivers (and readers) reeling and writhing for more."

ROAD & TRAVEL Magazine, established in 1989, is a comprehensive online, in-market lifestyle magazine specializing in a wide variety of automotive and travel topics. Primarily geared towards women, RTM was the first publication to specifically address women's automotive needs and concerns, providing a resource from which they could make informed decisions regarding purchases and personal safety. For more information please visit http://www.roadandtravel.com.

Founded in 1955, Volkswagen of America, Inc. is headquartered in Auburn Hills, Michigan. It is a subsidiary of Volkswagen AG, headquartered in Wolfsburg, Germany. Volkswagen is one of the world's largest producers of passenger cars and Europe's largest automaker. Volkswagen sells the Rabbit, New Beetle, New Beetle convertible, GTI, Jetta, GLI, Passat, Passat wagon, Eos, and Touareg through approximately 600 independent U.S. dealers. Visit Volkswagen of America online at vw.com.