Four-door coupé could show up at Detroit (finally)
Posted by Lorenzo at 9:40 p.m.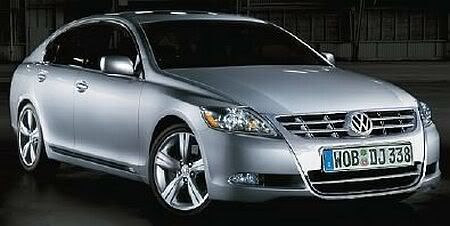 People say that good things come to those who wait. If that's the case, then Volkswagen's yet-unnamed (though internally codenamed CC) four-door coupé better be damn good (pictured is a very Lexus-like Photoshop). It has probably been in the radar since the beginning of time and yet we haven't even seen a glimpse of a concept, not even one blurry spyshot. Volkswagen has remained largely silent about it or any details surrounding the car. So silent, in fact, that people have either started to forget about it or think that car had been canned. No so. I am happy to say that there are finally some details to divulge.
Germany's
AutomobilWoche
is reporting that Volkswagen is scheduled to finally give us a gander at their very secret Passat-based four-door coupé at the North American International Auto Show in January next year.
The coupé is said to be priced in or around €30,000. For that, you get a 160 hp 1.8L TSI with a manual six. For two and a half grand more, you can get a 2.0L 140 hp TDI. A 300 hp V6 FSI comes in at a whopping €40,000 and comes equipped with all-wheel drive and DSG. Tick some options boxes and see those numbers go up. That said, however, Volkswagen is still staying well clear of Audi A5 territory, which starts at €44,000.
So, we finally hear some news of progress with this model. Let's cross our fingers for a Detroit launch.
Source: Automobilewoche via Motor Authority