Volkswagen reports November sales results
Posted by Lorenzo at 11:46 p.m.
AUBURN HILLS, Mich. — Volkswagen of America, Inc. today announced November 2007 sales of 17,689 Volkswagen brand vehicles. This represents an increase of 3.6 percent over the 2006 figure of 17,082 units.
Volkswagen brand strengths in delivering accessible and affordable fun-to drive German engineering are demonstrated by the increases posted by Eos, GTI, Jetta, New Beetle and Rabbit model lines, all posting gains over November 2006.
Sales of the luxury sports utility Touareg 2 are up 38.7 percent, reflecting wider availability and market acceptance of this award-winning, capable and recently upgraded vehicle.
Founded in 1955, Volkswagen of America, Inc. is headquartered in Auburn Hills, Michigan. It is a subsidiary of Volkswagen AG, headquartered in Wolfsburg, Germany. Volkswagen is one of the world's largest producers of passenger cars and Europe's largest automaker. Volkswagen sells the Rabbit, New Beetle, New Beetle convertible, GTI, Jetta, GLI, Passat, Passat wagon, Eos, and Touareg through approximately 600 independent U.S. dealers. Visit Volkswagen of America online at vw.com.
Detailed numbers after the jump
Source: Volkswagen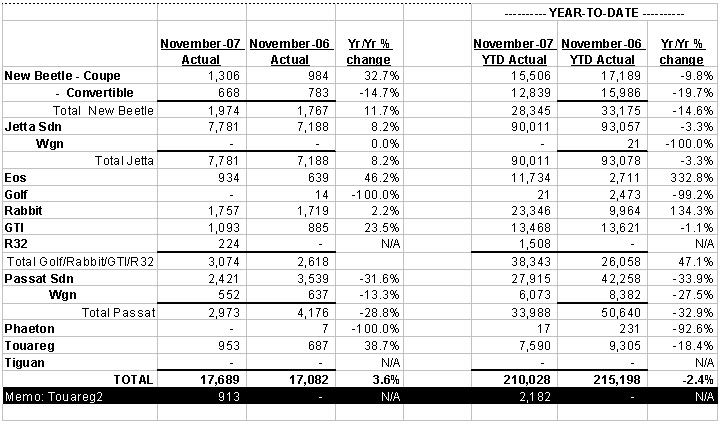 Click to enlarge