More spyshots and more info about Eos
Posted by Lorenzo at 7:56 p.m.
Text from Edmunds.com
Photos by Hans G. Lehmann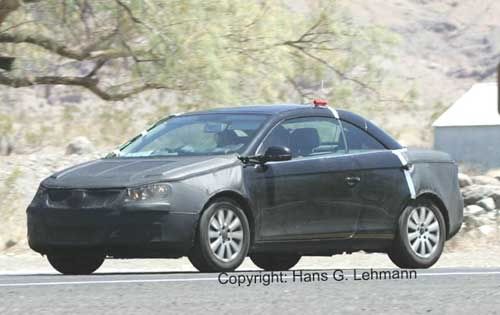 WOLFSBURG, Germany — Expect to see the production version of Volkswagen's Concept C convertible at this year's Frankfurt Motor Show in September.
The vehicle will go on sale in April, May or June of next year in the U.S. In a recent phone interview with Inside Line, a VW spokesperson said he did not believe the vehicle has been named, although it has had a "working title" of Eos.
The name "Eos" is not likely to go on the production model, as that is the name for a family of Canon cameras. But although the vehicle's name may be undetermined, VW appears to be finalizing its powertrains. When the convertible goes on sale in America, it will have one engine option: a turbocharged, 2.0-liter, 200-horsepower power plant that VW will also use in its forthcoming Golf GTI hot rod.
VW may give the convertible a 2.0-liter, 150-hp engine in other markets, but not in the U.S. Rumors suggest VW is preparing a hot-rod, "R36" version of the convertible, which would have a 275-hp engine. "That's what we'd like to see happen," said the spokesperson.
The "R36" designation is a variation on the "R32" badge worn by a hot-rod, all-wheel-drive version of the Golf compact. Regardless of what happens with hot-rod derivatives, VW will build the regular version of its forthcoming convertible in Portugal. The car will seat four and use a retractable hardtop. Its estimated price is $30,000.
Related Articles:
Update: More VW Eos (Concept C) Spyshots
Cabrio (Concept C) Spyshots