Volkswagen gives Touran the 'Cross'-dressing treatment
Posted by Lorenzo at 12:01 p.m.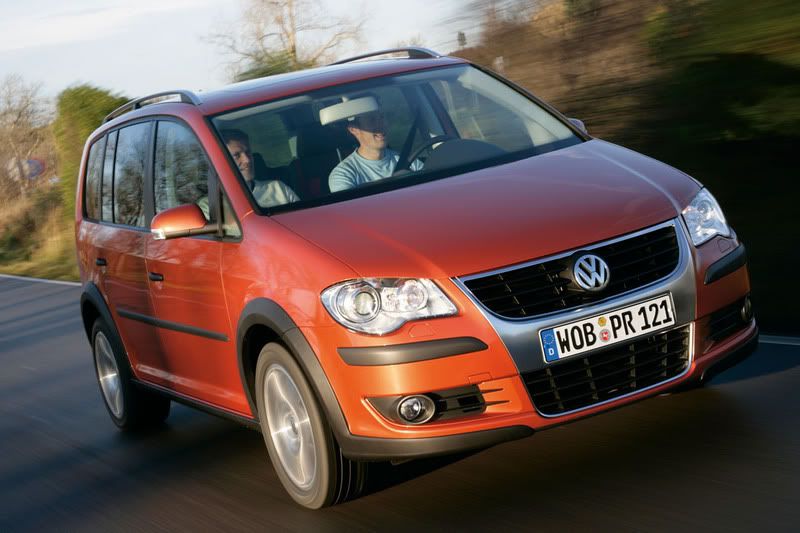 Past
doubts
have been put to rest. Though slated for an official introduction at the Bologna Motor Show later this week, that didn't stop Volkswagen from releasing information and pics of their new CrossTouran crossover model. "Cross" represents an independent product brand, sort of like "GTI" or "R". However, unlike "GTI" or "R" where speed and performance is emphasized, Cross creates "lifestyle-oriented" vehicles.
And in Volkswagen's book, "lifestyle-oriented" means adding dark trim wherever possible around the vehicle. Indeed, the CrossTouran looks no different from it's Polo and Golf counterparts in the looks department. Grille is slightly different from the regular Touran but other than that, it is a Touran under all that trim. Predictably, ride height was raised as well by 12 mm and Volkswagen used a modified version of the rough-track chassis that is optional in this series. In addition to that, the CrossTouran has a longer suspension system.
Inside, the CrossTouran remains fresh with a splash of colour coming from select trim pieces. Volkswagen calls this colour combination "Orange/Grey". A more subtle "Latte Macchiato" is available. Versatility of the Touran remains with many configurations to carry your cargo. For over-sized items, a pair of silver roof rails are standard.
Under the hood, Volkswagen has slated 6 engines for the CrossTouran. Three petrol engines are available with the top engine being a 1.4 TSI that makes 170 hp. Three diesel engines are also available with a 2.0 TDI outputting 170 hp. Manual transmission and DSG are available most engine options. The CrossTouran, despite its off-roader facade, is not equipped with 4Motion all-wheel drive.
The CrossTouran, as mentioned, will debut at the Bologna Auto Show and is scheduled to launch in Europe Spring of next year. As is the case with the Touran, the CrossTouran will not be available in North America.
Jump for press release and photos.
Source: Volkswagen AG.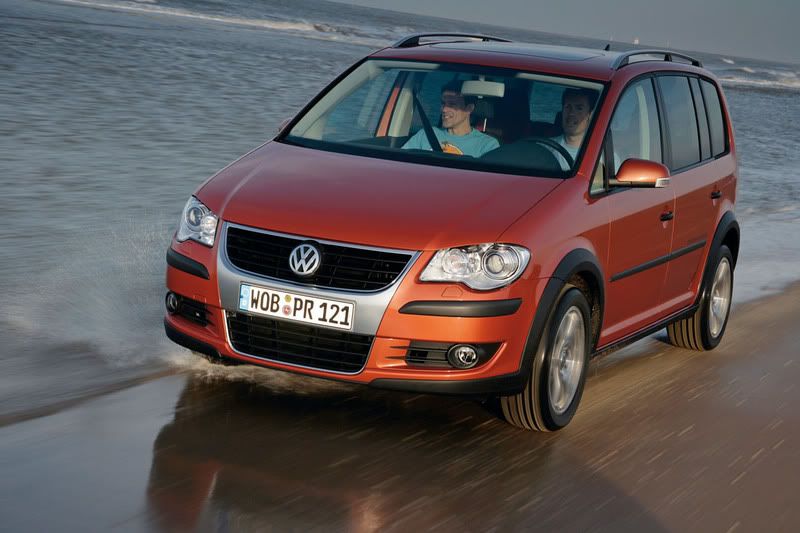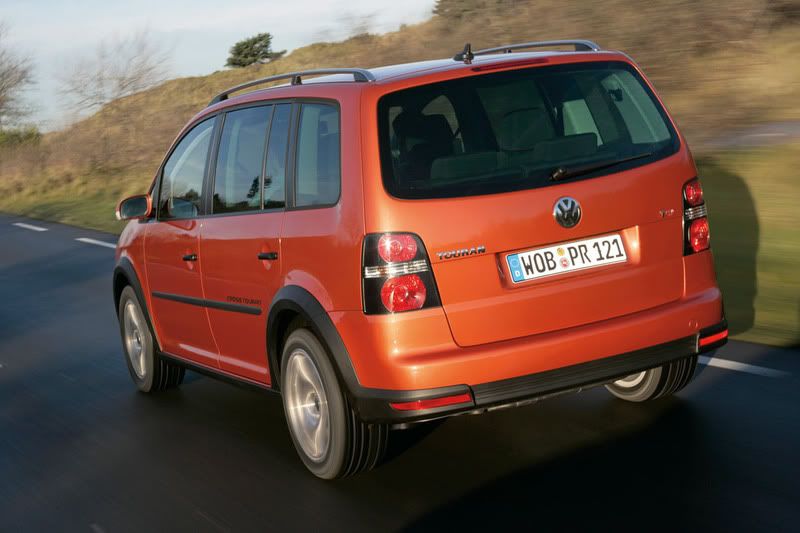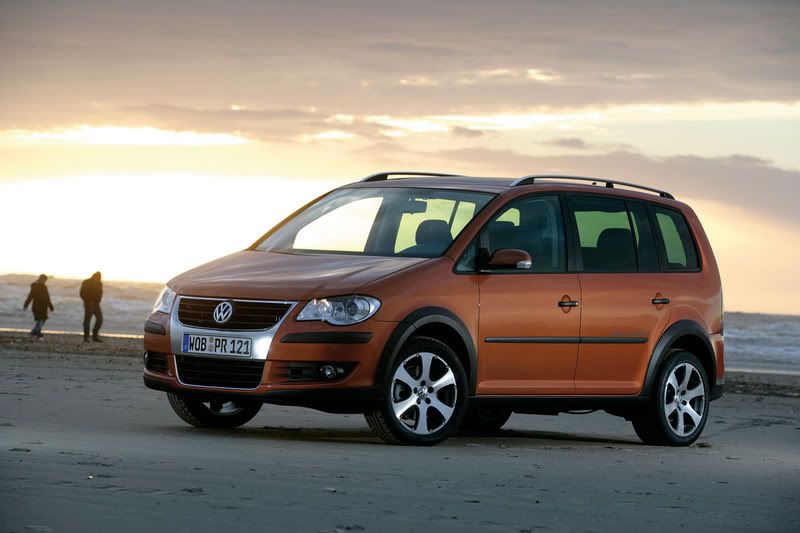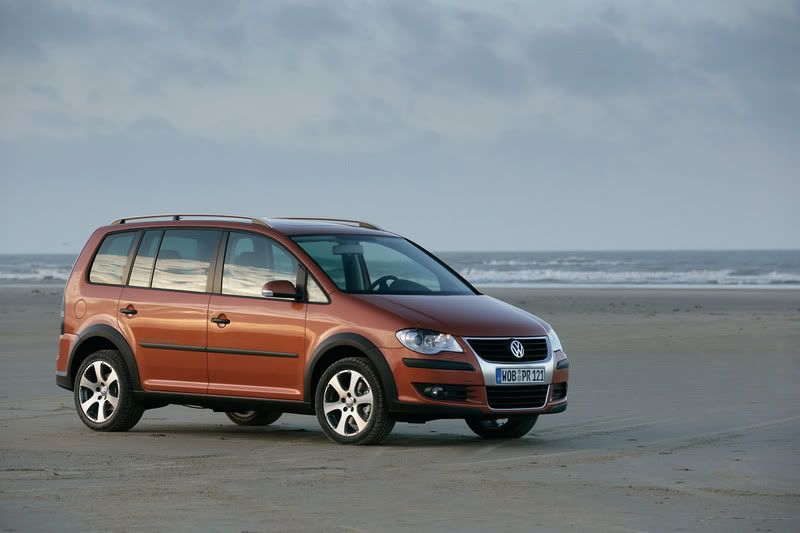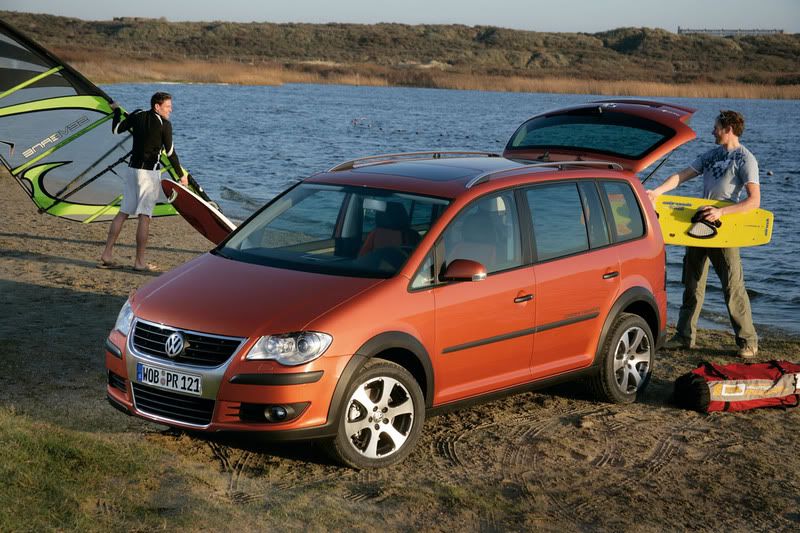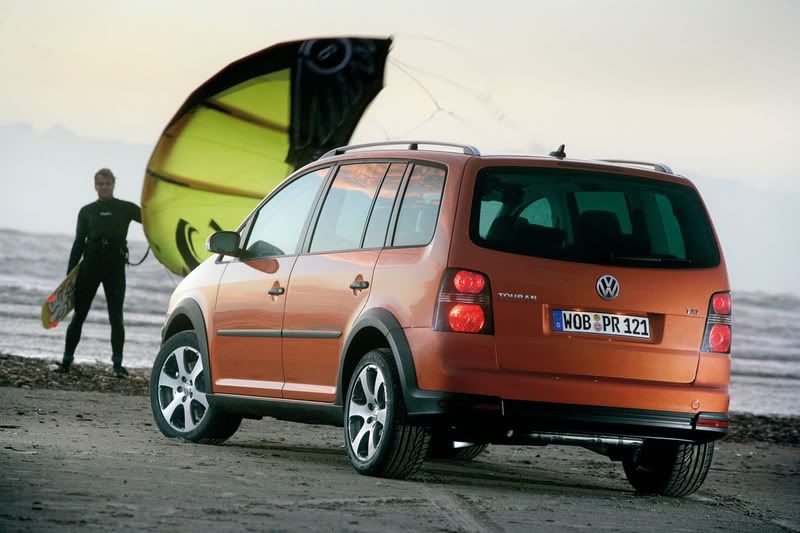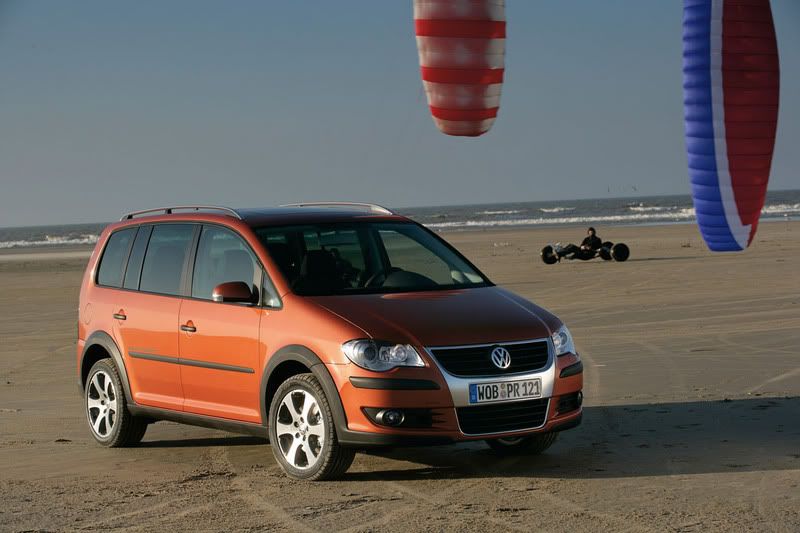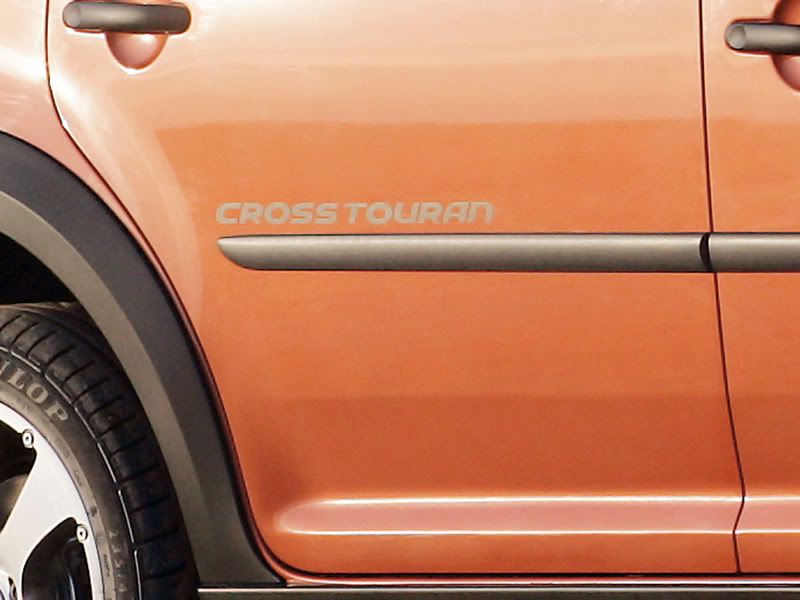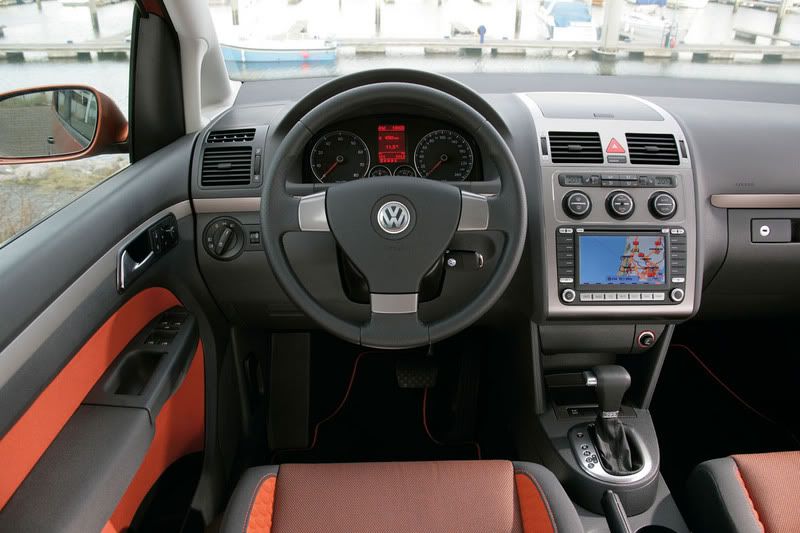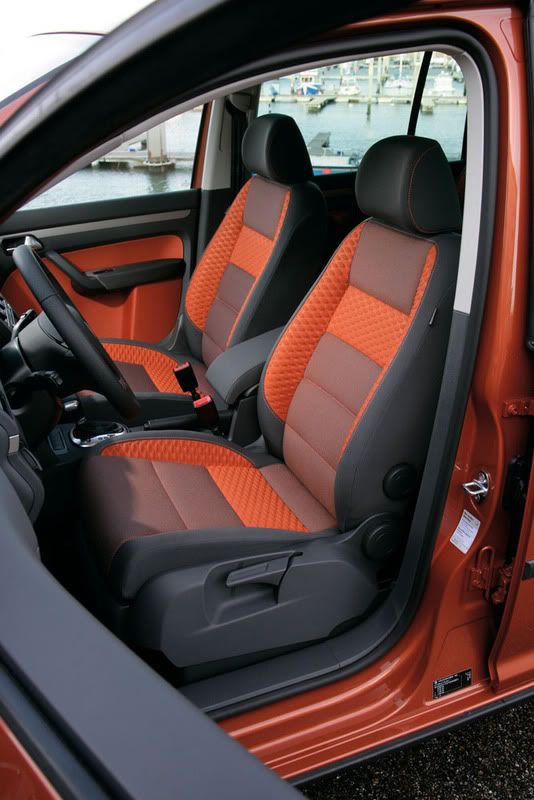 Germany's most popular compact van in a new dynamic lifestyle look



Wolfsburg/Bologna, 03 December 2006 -

CrossTouran appears as a sporty all-rounder
125 kW (170 hp) TSI Twincharger with DSG available for the first time
SUV elements on the CrossTouran underscore the lifestyle character
Exclusive 17-inch alloy wheels with differing width front and back lift the CrossTouran above the rest
Right before the turn of the year Volkswagen is presenting another member of the "Cross" family at the 30th Bologna Motor Show. The CrossTouran. After the start of the CrossPolo and the CrossGolf the crossover model of the successful compact van now complements the range of options. The strikingly styled, front-wheel drive Touran appears as a practical and lifestyle-oriented all-round talent. The new CrossTouran meets the demands for driving fun, a high level of product quality and an attractive price-performance ratio. For the European market launch in Spring 2007 the CrossTouran will be available with three gasoline-powered engines and three TDIs with output ranging from 75 (102 hp) to 125 kW (170 hp). The 125 kW (170 hp) TSI Twincharger with standard DSG is certainly a highlight.

EXTERIOR

Robust bumpers, wheel arches and side trim and more ground clearance

On the exterior numerous modifications distinguish the CrossTouran from the classical Touran design. The interplay of all body elements visible from the outside is particularly noticeable. The silver anodized roof railing with black mount harmonizes with the "matte chrome" look of the new front spoiler. The central air inlet in the front spoiler was also given a border in "matte chrome" look. All other body features of the all-around protection (bumper lower sections, side running boards, wheel arches, side protective trim) consist of robust, high-quality black-grained carbon fiber. The CrossTouran has lettering directly above the side trims. The wing mirror casings and the hatchback handle are painted to match the body color. All of this bestows it a completely independent character.

Fresh body colors available for the CrossTouran provide a harmonious contrast to the applications. The color palette ranges from "Candy White" to "Deep Black". The color "Red Rock" in particular underscores the unique character of the CrossTouran: It is a flexible all-rounder that conceptually shows true can-do qualities and at the same time makes a very positive statement about life.

One look at the silhouette also distinguishes the CrossTouran as a unique model. The mixed tire arrangement with 6.5-inch wide and 17-inch diameter alloy wheels on 215/50 tires in front and, in particular, the 8-inch wide alloy wheels on 235/45 tires in back underscore the road holding of the CrossTouran and competently fill out the wheel arches enclosed by the robust extensions. The extensions merge with the side running boards, which extend up into the doors and give the car an extremely solid and powerful character.

In order to gain the extra 12 millimeters of ground clearance the CrossTouran was equipped with a modified version of the rough-track chassis that is optional for this series: it also includes a longer suspension system. The silver anodized roof railing with black mount was however not included as a component of standard equipment for visual reasons only. It is in fact a classic way to anchor the mounting system and roof boxes. The maximum permissible load is 100 kilograms.



"Cross" is a unique product brand like "GTI" or "R"



The name "Cross" represents an independent product brand like "GTI" or "R" with a specific design as well as an equipment range specially developed for the CrossTouran. Features include the "Climatic" air-conditioning system, power windows in the front and back as well as height-adjustable comfort seats with lumbar support in front.

INTERIOR / LUGGAGE COMPARTMENT

A colorful design specially developed for the CrossTouran, and great functionality make everyday driving easier

With its functional design and especially with the "Orange/Grey" interior colors, the inside of the CrossTouran imparts a youthful and pleasant atmosphere. In particular, in conjunction with the exterior "Red Rock" color this orange-grey combination has a special charm. For those who prefer to be a bit less ostentatious the "Latte Macchiato" color scheme is the fitting counterpart.

The matching cover fabrics (Design: "Eclypt Elon") are not only used in the comfort seats in front and the back seats, but also in the door linings. The honeycomb structure incorporated into the seat flanks and upper rear part is something the observer notices right away. The seams of the three-spoke steering wheel covered in perforated leather are offset with lighter colored seams.

The practical individual seating system of the CrossTouran shows the way in terms of versatility. The three lightweight seats arranged next to one another in the second row can be quickly and easily moved – lengthwise and offset diagonally, folded down or removed. The CrossTouran can be optionally equipped with a third row of seats; if desired, the two full-fledged individual seats can each be easily lowered separately into the luggage compartment floor.

In terms of utilization, the CrossTouran is also extremely flexible when it comes to transporting luggage. In its basic configuration the luggage compartment is 695 liters. When necessary maximum storage volume can be expanded to 1,989 liters by removing the second row of seats and lowering the third row into the luggage compartment floor. Even bulky items or recreational equipment for the weekend pose no problem for the CrossTouran.

SAFETY

High stability passenger compartment and standard front, side and head airbags

The CrossTouran also makes no compromises in terms of safety. The laser-welded and, thanks to high tensile steel, especially rigid Touran body offers a high level of passive safety. The extensive standard safety equipment consisting of safety-optimized headrests in front and on the outer seats of the second row, driver and passenger airbag, side airbags in the front backrests and a head airbag system for the first and second row of seats in conjunction with three-point safety belts on all seats provide optimal occupant protection.

A high level of active safety is provided by the ESP electronic stabilization program including counter-steering feature and trailer stabilization as well as speed-regulated electro-mechanical power steering.

ENGINES / TRANSMISSIONS

Six economical engines, two transmissions and a performance range from 75 to 125 kW

No matter if it's a basic economical engine, dynamic alternative or high-torque and thrifty TSI or TDI, the CrossTouran offers the right engine for every use and taste. All engines comply with the Euro 4 emissions standard.



GASOLINE ENGINES





CrossTouran 1.6 with 75 kW / 102 hp


The entry level is represented by the "smallest" Touran four-cylinder engine with 1.6 liters of engine space and an output of 75 kW / 102 hp. With the basic engine and five-speed manual transmission the CrossTouran is already 176 km/h fast and accelerates from 0 to 100 km/h in 13.3 seconds. Fuel consumption is limited to 8.3 liters over 100 kilometers.



CrossTouran 1.4 TSI with 103 kW / 140 hp


The "small" Twincharger TSI deserves special attention. Thanks to twin charging via compressor and turbocharger it features an extremely high-torque and agile characteristic. Nevertheless, the engine is extraordinarily thrifty with 7.6 liters of fuel consumption over a distance of 100 kilometers. For those who like it extremely comfortable, the CrossTouran with this engine type can also be ordered with a DSG (direct shift gearbox).



CrossTouran 1.4 TSI with 125 kW / 170 hp


The most powerful direct injection gasoline engine has a sporty temperament and will be used for the first time in the CrossTouran. The gears of the Twincharger with 125 kW / 170 hp will be changed with a DSG direct shift gearbox as part of standard equipment. It also convinces with low fuel consumption with an overall average of 7.8 liters over 100 kilometers. With this engine the CrossTouran has a top speed of 208 km/h and accelerates to 100 km/h in just 8.7 seconds.



DIESEL ENGINES





CrossTouran 1.9 TDI with 77 kW / 105 hp


The 1.9 TDI with pump-jet direct injection technology and turbocharger has a standard six-gear transmission, but can also be combined with the innovative DSG direct shift gearbox. The engine accelerates from zero to 100 km/h in 13.8 seconds and reaches a top speed of 176 km/h (DSG: 174 km/h). With average fuel consumption of only 6.2 (DSG: 6.5) liters for 100 km it is also extra thrifty.



CrossTouran 2.0 TDI with 103 kW / 140 hp


The pump-jet four-cylinder direct injection of the 2.0 TDI attains a full 320 Nm of torque. In combination with the standard six-gear transmission it has a top speed of 196 km/h. The 140 hp TDI can be optionally equipped with direct shift gearbox. As a TDI DSG Germany's most popular compact van goes 194 km/h. It has average fuel consumption of only 6.2 (DSG: 6.8) liters over 100 km.



CrossTouran 2.0 TDI with 125 kW / 170 hp


The second 2.0 TDI provides superior driving performance: The engine is equipped with a highly innovative Piezo pump-jet high-pressure unit-injector system and two balancer shafts. This very quiet four-valve TDI has an output of 125 kW / 170 hp (4,200 rpm), developing torque of 350 Nm (1,750 to 2.500 rpm) and accelerating the CrossTouran to 100 km/h in only 9.2 seconds. Top speed is 210 km/h (208 km/h with DSG). Here too average fuel consumption is only 7 liters over 100 kilometers.

STANDARD EQUIPMENT

CrossTouran

Specific series equipment was developed for the CrossTouran. Compared to the Conceptline version (basic version of the classic model) it includes the following features:



Exterior equipment



Silver anodized roof railing with black mount
Transparent "CrossTouran" logo on the rear doors
Black grained body cover on wheel arches, running boards and doors
"Funplay" alloy wheels,
6.5 J x 17 (215 / 50 R 17 tires) in front
8 J x 17 (235 / 45 R 17 tires) in back
Bumpers in sporty design
Headlights partially tinted black
Rear lights in "Smoke" look
Matte chrome crest grill
Interior equipment
Seat and door covering in fabric pattern, "Eclypt Elon" design
Leather steering wheel (3 spokes) in perforated leather with décor in stainless steel look
Parking brake lever knob in leather
Gearshift lever knob in leather
12 Volt socket for second row of seats and in luggage compartment
Storage compartment with cover on instrument panel
Storage pockets on backs of front seats
Folding down passenger backrest with table and load through function
Folding tables on backs of front seats
Comfort seats with height adjustment and lumbar support
Middle console with storage compartment and horizontally/height-adjustable middle armrest, with two air vents in back and a cup holder
Drawers under the front seats
Safety equipment
Functional equipment
"Climatic" air-conditioning system
Power windows in back
Luggage compartment cover
Rough-track chassis approx. 12 millimeters more ground clearance
Two-tone horn
Winter driving program (standard equipment for all DSGs and for 125 kW TDI six-gear transmission)