R32 makes debut in Chicago Auto Show
Posted by Lorenzo at 6:09 p.m.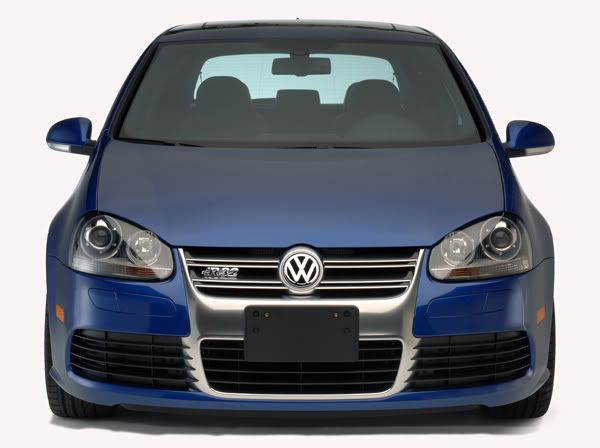 The moment 5000 lucky people (and the rest of us) have been waiting for has finally arrived today. The second generation R32 makes it's North American debut in Chicago during the Chicago Auto Show. This thing is hot. Dressed in blue with a bodykit that compliments the standard Golf body very well. Under the hood, a naturally aspirated 3.2L narrow angle (15 degrees) V6 is the centerpiece, producing 250 hp and 236 ft. lbs. of torque. That's a whopping 100 hp more than the standard Rabbit offering, and 50 hp more than the GTI. Power is routed to Volkswagen's acclaimed DSG transmission and distributed to all four 18-inch wheels. The R32 takes 6.4 seconds to reach 60 mph.
As mentioned earlier, only 5000 units will be made available in North America. Volkswagen has already released the reservation process for the R32.
Jump for both press releases.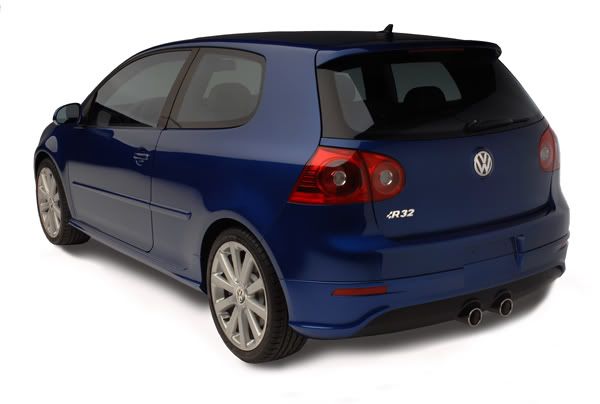 Source: Volkswagen of America


Hot New R32 Warms Up the Windy City with its North American Debut

CHICAGO – Volkswagen of America, Inc. today announced the return of its motorsports-inspired R32 at the Chicago Auto Show. First introduced in 2004 to an enthusiastic reception, the R32 delivers the ultimate in Volkswagen sports performance with dynamic handling and refined road manners.

The R32's power comes from a 3.2 L naturally aspirated 15-degree narrow angle V6 engine. With 250 horsepower and 236 ft. lbs. of torque, the R32 is all muscle. The standard 4MOTION all-wheel-drive system transfers at least 75 percent of available torque to the rear wheels. Volkswagen's acclaimed DSG® transmission allows for seamless gear changes and accelerates from 0-60 in approximately 6.4 seconds.

With a fully independent multi-link rear suspension that sits wider and lower than its GTI sibling, the R32 flaunts its authority both inside and out. Twin chrome exhausts, 18-inch alloy wheels, Bi-Xenon headlights, a uniquely shaped front grille and R32 badging distinguish this car from anything else on the road. A rear roof spoiler and deep front spoiler, coupled with body-colored bumpers, side bump strips, door handles and door mirrors, add to the streamlined, sporty look.

The R32 boasts a long list of safety features, including Electronic Stabilization Program that reacts to critical driving situations in milliseconds by controlling the speed of individual wheels; and a confidence-inspiring Anti-Lock Braking System that helps to prevent wheels from locking under heavy braking. Brake Assist boosts brake pressure in emergency braking situations and the state-of-the-art Electronic Brake-pressure Distribution automatically varies the amount of force applied to each of a vehicle's brakes based on road and driving conditions.

Inside, the R32 takes it cues from racing with aluminum-look foot pedals and deep front sports seats. Features such as automatic climate control (Climatronic™), ten-speaker premium CD stereo system, rain sensing wipers, automatic dimming interior rear-view mirror, heatable front seats and heated washer nozzles, anti-theft alarm, cruise control and trip computer are standard luxuries that complement this performance-driven champ.

Volkswagen Announces Reservation Process for New R32

Strong Demand Anticipated for Limited Production Sports Model

CHICAGO – Volkswagen of America, Inc. anticipates significant consumer demand for its sporty new R32 performance model, debuting today at the Chicago Auto Show. The new R32 is a reprise of the 2004 edition, which sold out its entire United States allocation of 5,000 shortly after its market debut.

The new edition, limited to a quantity of 5,000, is expected to appeal to previous and current R32 enthusiasts, owners of the sporty GTI who are looking for "something more" and to the larger automotive enthusiast community. To satisfy those customers with the strongest R32 ownership aspirations, Volkswagen has established an order reservation process. Current GTI and R32 owners will be notified of the opening of an R32 micro-site on www.vw.com, concurrent with today's introduction. An R32 prospect will be referred to a Volkswagen dealer. The first 832 people who place a deposit with an authorized Volkswagen dealer, will be eligible to secure one of the first R32 vehicles to be delivered in August 2007.

The R32 features an exclusive combination of high performance components, such as a narrow-angle 3.2L V6 producing 250 horsepower mated to a six speed dual clutch DSG transmission, with steering wheel mounted shift controls. It features a full compliment of comfort, convenience and performance features, as well as unique R32 interior and exterior design cues.

Founded in 1955, Volkswagen of America, Inc. is headquartered in Auburn Hills, Michigan. It is a subsidiary of Volkswagen AG, headquartered in Wolfsburg, Germany. Volkswagen is one of the world's largest producers of passenger cars and Europe's largest automaker. Volkswagen sells the Rabbit, New Beetle, New Beetle convertible, GTI, Jetta, GLI, Passat, Passat wagon, Eos, and Touareg through approximately 600 independent U.S. dealers. Visit Volkswagen of America online at vw.com.