Volkswagen Coupé caught in the cold
Posted by Lorenzo at 10:51 p.m.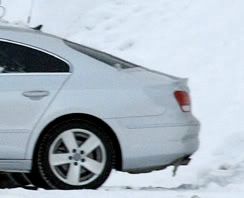 Just a few weeks ago, Volkswagen released a
teaser
microsite for the Passat-based coupé (called simply Volkswagen Coupé). The site showed the car in various, up-close angles that didn't really reveal anything at all in terms of the car's overall shape. And any spyshots that have been caught of the Coupé, thus far, have been with heavy heavy camouflaging over the important parts (namely the front and rear, the rear especially).
But The Auto Channel has obtained spyshots of the Coupé doing some cold-weather testing is somewhere with hardly any camo at all. For the first time, we can see the extent of the coupé roofline. My first impression of the vehicle's back half is that it is unlike anything out there today. The rear section of the Coupé makes the CLS look like any old, conventional, three-box-design sedan (luckily, Volkswagen had a CLS in their entourage for our comparison). The rear looks awkward and heavy. Combine that with a long nose, and the car is rather disproportionate. Of course, this is just a prototype, and camera angle may have something to do with it as well. We can't really know when this picture was taken and Volkswagen may have polished the design since it was taken. Let's hope so.
We're counting on a March introduction in Geneva.
Source: The Auto Channel