Mk. VI Golf sketches reveal Iroc to be inspiration
Posted by Lorenzo at 6:57 p.m.
Image source: Infomotori.co.uk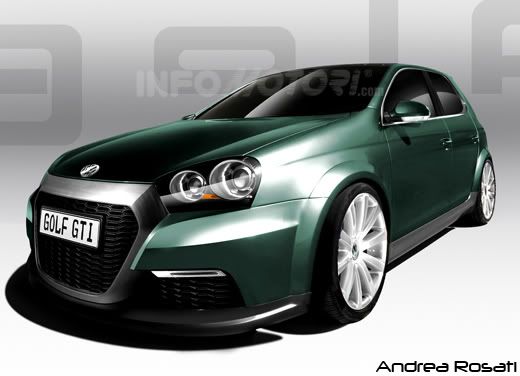 New renderings of Volkswagen's upcoming Mk. VI Golf have surfaced on the Internet. The renderings depict an Iroc-esque Golf. That means an aggressive front end with a large grille and large air intakes. If these renderings contain a shred of truth, then they are inline with recent reports that claim Winterkorn has handed over design of the Mk. VI to Walter de'Silva to tone down the air intakes, which he thought were too large. The rear, on the other hand is very unGolf-like with an oddly shaped window and taillights. The interior is a mishmash of Iroc and Golf parts.
The Mk. VI's release into the market has been fast tracked and it's main goal is to reduce production costs from the current Mk. V. Don't be fooled, the Mk. VI, at least according to sources, will still be on the Mk. V chassis but will be sporting a more aggressive skin.
More photos after the jump.