Porsche set to raise stake, takeover imminent
Posted by Lorenzo at 7:43 a.m.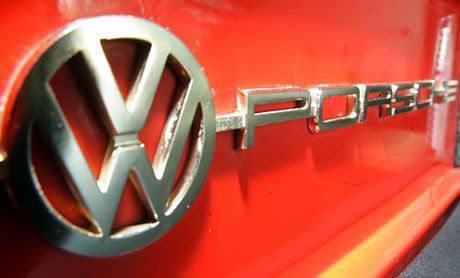 Currently, Porsche's stake in Volkswagen sits at 27.3%. Just 2.7% shy of the 30% that would make a takeover bid for Volkswagen mandatory. However, Porsche's supervisory board recently approved a move to increase its stake in Volkswagen to 31%, which means that they have crossed the 30% threshold. A takeover at Volkswagen is imminent.
It has been reported countless times the outcome should Porsche finally decide to go through with a takeover. It means protection from a hostile takeover by a foreign investor if the
Volkswagen Law is struck down
. Porsche's stake combined with that of the State of Lower Saxony and Volkswagen themselves adds up to over 50% and therefore veto power to any decision that could be bad for Volkswagen. After all, it is in Porsche's best interest to protect Volkswagen because to them, Volkswagen is a parts bin that is waiting to be explored. Case in point: the Porsche Cayenne, which was co-developed with the Volkswagen Touareg.
There are a few unknowns when this takeover goes through. There maybe a few brands that leave the Volkswagen Auto Group. Lamborghini and Bugatti are favourites among analysts. The future of some of Volkswagen's (and Audi's) models that may be in direct competition with any of Porsche's offerings would also be uncertain.
Source: Bloomberg