Golf R36 spied
Posted by Lorenzo at 7:11 a.m.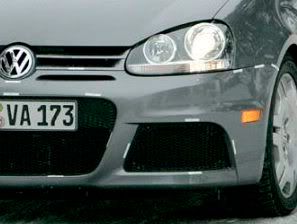 Don't let the badging fool you. Under the hood of that Golf is the
Passat R36
's 3.6L engine. Indeed, this is a spyshot of the forthcoming Golf R36, which is evident due to the large intakes that the 3.6L engine needs to breath. As with the Pasast R36, the Golf R36 would produce 300 hp. You know, for people who feel the R32's 250 hp is not even close to enough. Other than the engine, the recipe doesn't change. All those 300 horses would make all-wheel drive a necessity and DSG will take care of getting the best out of those horses.
There are no confirmed dates for the Golf R36 but expect to see a working concept in this year's Frankfurt Motor Show in September. This model could very well be the Mk. V's swan song.
Source: World Car Fans; Photo: Hans G. Lehmann