Volkswagen and LG make MP3 players
Posted by Lorenzo at 7:35 p.m.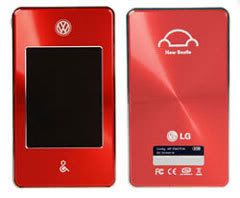 Remember back in the early part of the decade when Volkswagen had this interesting promotional campaign with Apple where every New Beetle came with an iPod. "Pods Unite" they said. Not anymore.
Volkswagen has teamed up with LG to create a slick looking Volkswagen branded MP3 player. And folks, this one may actually give the iPod a run for its money. It can play a variety of audio formats from the venerable MP3 to the more obscure Ogg, with video capability in the form of MPEG-4 and Windows Media Video 9. All that on a 2.4 inch display. Not too shabby. It seems the interface is touch screen which adds another dimension of coolness. This thing even has two flash games! And don't let the garish red colour scare you. This one comes in a variety of colours based off of Volkswagen exterior colours such as Salsa Red (pictured), Shadow Blue, or Sunflower Yellow.
It is available in both 2 and 4 GB configurations with 20 hours of music playback or 3 hours of videos. Although LG introduced the Volkswagen themed players in the Seoul Motor Show, plans to market them are still to be decided upon.
Source: Engadget