Volkswagen revives plan for 200-mpg small car
Posted by Lorenzo at 7:47 p.m.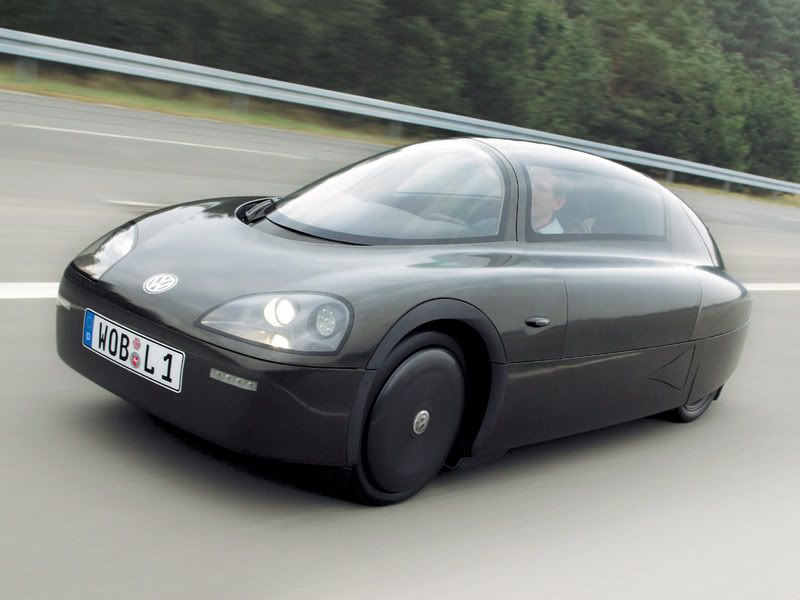 It was exactly 5 years ago (to the day) when Ferdinand Piëch and then Volkswagen chief Bernd Pischetsreider drove a weird looking, tear drop-shaped black car from Wolfsburg to Hanover and averaged a claimed 222 mpg. This weird looking car was the 1-Litre concept (pictured) which had an 8.5 hp, 299cc one-cylinder engine and was a study to see if Volkswagen could feasibly build a small car that could average over 200 mpg. Judging from how much we've heard of it since, the 1-Litre concept obviously didn't get far.
But it looks like things have changed and the 1-Litre concept is back on track. In an interview with German newspaper
Braunschweiger Zeitung
, Piëch said, on occasion of his 70th birthday, that building a car capable of travelling 100 km on just a liter of fuel (equivalent to 235 mpg) is finally possible with the advances in materials and reductions in costs. Piëch hinted that current Volkswagen chief Martin Winterkorn will likely green light such a vehicle, something Pischtsrieder didn't do (and had, in fact, haulted the R&D for the 1-Liter concept and a Lupo 3L, which was capable of 78 mpg).
With regards to the cost of such a vehicle, Piëch is quoted as saying, "I have spoken with a manufacturer. He believes he can deliver components within two years for €5,000 rather than €35,000 [U.S. $6,775 rather than $47,400]. It then comes into the sort of territory where a normal customer can afford it. That was at my time not possible." Piëch wouldn't promise a time frame, or a price for that matter. However, we should hear something before the end of the decade.
So, after all this, you may be asking yourself if this is possible. All I'll say is that Piëch is the guy who thought of a 1000 hp Bugatti and a $100,000+ Volkswagen and no one thought he could do it. Let's just say no one's thinking that now.
In the meantime, take a look at a few shot of the 1-Litre concept after the jump.
Source: Autocar, Edmunds