Volkswagen "Logan" spyshots
Posted by Lorenzo at 7:15 p.m.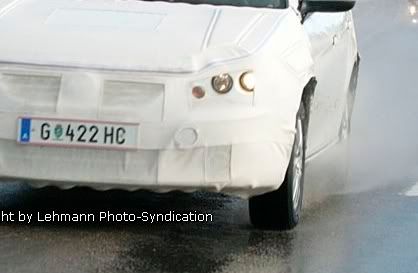 It is unclear what exactly this model is. And while it would be easy to assume that this is a testmule for the Mk. VI Jetta, it may not be. My French isn't that great but from what I can gather in
Caradisiac
's article, this may be a mule for Volkswagen's Dacia Logan fighter (hence the name) or it could also be a mule for the next Polo.
We have heard
about a possibility of a Dacia Logan fighter from Volkswagen about a few years ago but never really heard about it again until now.
Details remain sketchy. But what is for sure is that this is a Volkswagen. The camouflaging does nothing to hide the Volkswagen logo up front and even a hint of the Eos style headlights can be seen if one looks carefully.
It would be interesting to see where this goes. It looks like it's almost ready to be mass produced which could mean an introduction soon. If you want to see more, link to
Caradisiac's
gallery.
Source: caradisiac.com, Lehmann Photo Syndication.