New details about Mk. VI Golf
Posted by Lorenzo at 5:32 p.m.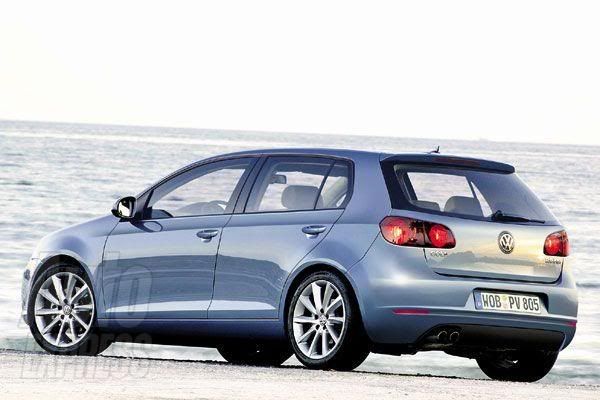 The current Mk. V Golf, released in Europe in 2003, is a financial disaster for Volkswagen. It costs too much and takes too long to build. This fact has caused Volkswagen's top people to
expedite the next generation Golf
's arrival into the market, by a full two years earlier, some say. And with the Mk. VI Golf, Volkswagen will be taking measures to make sure it takes a shorter time and less money to build.
The Mk. VI will still be based off of the Mk. V platform, minus the current model's multi-link rear suspension. The Mk. VI will feature, instead, a simpler version which will reduce costs and build times. Design-wise, the Mk. VI is expected to shadow some of the current model's lines (such as the C-pillar, and rising waistline), but the front will take some inspiration from the Tiguan, which may mean many things, including a distinct grille incorporating two horizontal bars through the VW logo. Sleeker, more angular headlights and taillights are also expected to appear on the Mk. VI. Design was a point of contention for Volkswagen AG chief Martin Winterkorn, who rejected the Mk. VI's design and handed it over to Walter de'Silva for a redesign. The images above are renderings of what de'Silva may have done.
Engine flavours will more or less remain the same and Volkswagen's new
7-speed DSG
is said to make an appearance. A BlueMotion model is also said to be in the pipe for the Mk. VI to bolster Volkswagen's ecofriendly image.
So the question remains, will all this cost-cutting affect quality? Volkswagen insists it won't. Where Volkswagen stands right now, quality is not something they can afford to skimp on.
The Mk. VI is expected to make an appearance at next year's Geneva Auto Show in March with a European market launch is expected in the fall of 2008. As for North America, with the Rabbit being only a year old, who knows? We may have to wait three years for the Mk. VI, just as we did for the Mk. V.
Source: AutoExpress via The German Car Blog