Mk. VI Golf caught in the wild
Posted by Lorenzo at 2:43 p.m.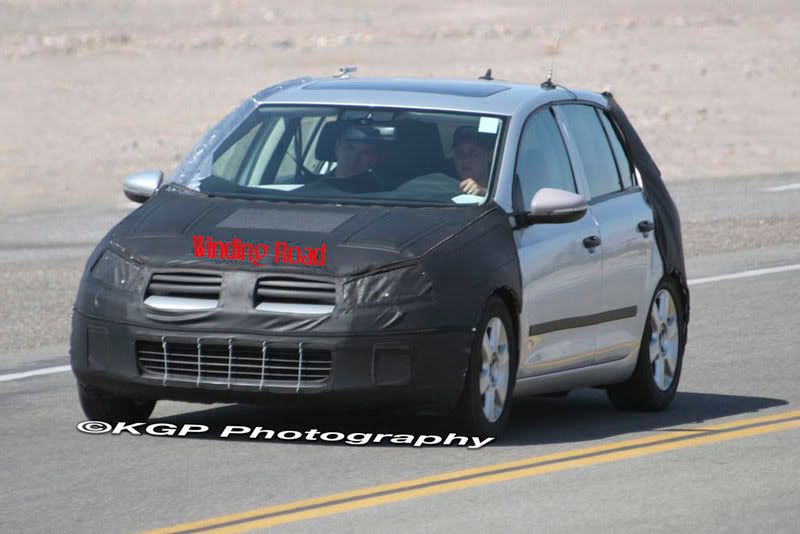 The Mk. VI Golf is arguably one of the most anticipated model to come from Volkswagen. After the success of the Mk. IV and the comparative failure of the Mk. V, Volkswagen is now concentrating all its efforts on making things right with the Mk. VI by improving on key areas like design, reliability, and production cost.
So while we wait and see if Volkswagen will improve on those key areas, we can at least take a look at what Volkswagen has so far. KGP Photogrpahy's ace spy photogs have captured the Mk. VI doing some hot weather testing in Death Valley. While the spyshots reveal nothing about the highly contentious front and rear, the side of the car, which remains mostly uncovered, reveals a sharper character line spanning the flank. You can also see where Volkswagen has reduced costs with the use of black door door handles. Regardless, Volkswagen probably didn't want spyshots out just yet, judging from the guy who flipped the bird at the photographers.
Expect to see the Golf in European showrooms in 2008. The big question, however, is if Volkswagen will take as long to bring the MK. VI to North America as it did the Mk. V. Some say that the Mk. VI should be here 2009-2010. Let's hope it doesn't actually take that long.
More pictures after the jump.
Source: Winding Road, KGP Photography