Car posts more Passat Coupé spyshots and details
Posted by Lorenzo at 6:16 p.m.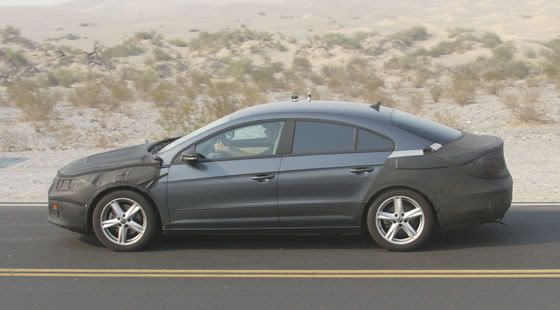 Funny what 24 hours can bring. Just yesterday, the Passat Coupé was at the back of all our minds. Now, we are inundated with spyshots of said coupé, beginning with
yesterday's shots
that didn't reveal anything except what the Coupé's lines will be. Today,
CAR
published additional spyshots of the Passat Coupé on their website. This time, we can accurately judge the proportions of the car thanks to that nice side shot that
CAR
was able to procure. No doubt, the Passat Coupé looks much better from these pictures.
CAR
also revealed some information on the Passat Coupé's front end. Apparently, it will be a departure from the regular Passat as the Passat Coupé (that name, by the way, is the working name within Volkswagen) will feature double, semi-circular headlights with "eyelash" indicators (when I read that,
this
immediately came to mind. Not good).
CAR
also had some insights about the Passat Coupé's engine choices which, they claim, will include a the 3.6L 280 hp V6 and/or a purported turbocharged version that could churn out 400 hp.
One thing of interest is Volkswagen's claim that the Passat Coupé is the first
five-door
coupé. Basically, push the button on the trunk once and a regular trunk pops open but push it twice, and the rear window opens with it, thus making it hatchback-like. Neat.
Again, however, no time frame wash indicated for when we could expect it on the streets or, at the very least, at an auto show introduction. As it stands, we expect it sometime in 2008.
Source: CAR