DARPA Urban Challenge 2007 - Passat Wagon "Junior" Qualifiys for next Stage
Posted by phaeton at 6:31 p.m.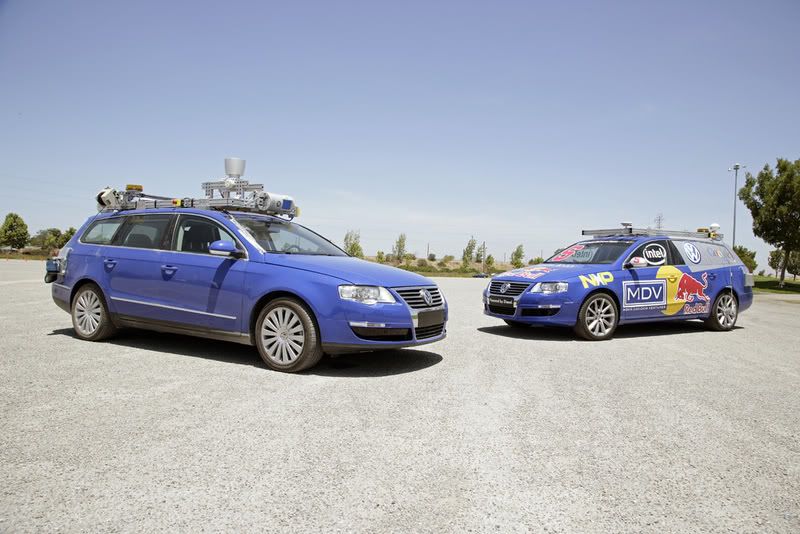 "Junior" Stanford Uni and VWs Autonomous Passat has qualified for the next stage in test before the final challenge on the 3rd of November.

We at VW Gazette wish Stanford Uni and VW all the luck in making this win a back 2 back win.

Full Press Release follows


Self-driving prototype masters town traffic situations under competitive conditions

Wolfsburg, 10 August 2007 - The participants for the Urban Challenge have been named. All participating vehicles were tested by the DARPA* in the so-called "Site Visit" on 14th June 2007. "Junior", a Passat wagon made by Volkswagen, has now been officially nominated for the next stage. It will take place from October, 26th till 31th 2007 and the final will be 3rd November 2007 in Victorville, CA near Los Angeles.

The Passat, which was built by Volkswagen Group Research and its ERL (Electronics Research Laboratory) in California, was made in cooperation with Stanford University (USA). Vehicles have to travel, without a driver, over a distance of approximately 60 miles in an urban environment. Keeping to all applicable traffic regulations, the vehicles have to drive in normal traffic, follow the rules for the right of way, cross over busy intersections and drive round roundabouts. The winner is the team whose vehicle completes this task first.

Volkswagen's team already demonstrated its skill when "Stanley", a Volkswagen Touareg TDI, won the first race for self-driven vehicles at the last DARPA Grand Challenge in October 2005. The course for that race went through 132 miles of the Mojave Desert to the south of Las Vegas. Stanley functioned absolutely perfectly and won the race after six hours and 54 minutes.

*DARPA (Defence Advance Research Projects Agency) is an agency of the USA's ministry of defence.

Source: Volkswagen Media Services