Passat coupé spyshots finally taken
Posted by Lorenzo at 6:12 p.m.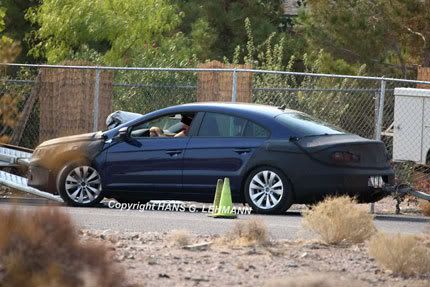 It seems nowadays that confirmation a vehicle exists, short of an official announcement from the company itself, comes in a form of spyshots. So when no spyshots of the forthcoming four-door coupé Passat had been taken after some time of its announcement, one had to wonder whether it actually even existed. Well, it does and we have proof.
Hans G Lehmann's expert camera skills was able to capture the Passat coupé being tested and sported the usual camo fore and aft so nothing of importance could be distinguished. However, for once it wasn't the design of the front or rear that we wanted to see but rather the roof line itself. Remember, this is suppose to be a four-door coupé to compete with the Mercedes Benz CLS so the roof line is all important in distinguishing it from a regular Passat. I can say that the section from the C-pillar back is different, beginning with a different door cutout and C-pillar than the Passat. The rear deck also seems shorter.
There is a lot we don't know about this model like engines or price. Some think that a price hovering around US$40,000 is not out of the question, considering this is being positioned above a regular Passat. Expect the four-door coupé to show up in 2008.
Source: Autoblog, Inside Line