IAA under the Sign of the Caddy: World premieres of the Maxi and BlueMotion
Posted by phaeton at 3:11 p.m.


Volkswagen Commercial Vehicles at IAA Frankfurt Show 2007 will have three (four if you count the already debuted California NoLimit) World Debuts.

The most important release from VWCV is the Caddy Life BlueMotion Studie that only drinks 5.7L of diesel per 100km/h and also has a diesel particulate filter that cuts the CO2 rating from 167g/km to 149 g/km.

This is all due to some enhancements under the skin to the aerodynamics, gearbox and engine.

I wont bore you with the rest of the debuts I'll let you click the post for yourself and found out what VWCV have to offer, Enjoy.

Press Release follows....


-Caddy debuts in Frankfurt as extended Maxi and with new 140 PS TDI

-Caddy BlueMotion concept vehicle with 105 PS TDI now consumes just 5.7 liters of diesel

-New: Multivan PanAmericana and California NoLimit

Hannover, September 2007. Volkswagen Commercial Vehicles is presenting two world premieres at the International Motor show (IAA) in Frankfurt: The new Caddy Maxi and the near-production Caddy BlueMotion concept vehicle. The Caddy Maxi was lengthened by 47 centimeters making it the new crossover between the "classic" Caddy and the "T5". The Caddy BlueMotion shines with its fuel consumption of just 5.7 liters per 100 kilometers. Also on display for the first time in the world in a production version at the IAA: The all-wheel drive Multivan PanAmericana and the California No Limit

World premiere 1: The new Caddy Maxi. It merges the qualities of a delivery van with the versatility of a compact van to form a new commercial vehicle class. Compared to the familiar Caddy, the Maxi was lengthened from 4.41 meters to 4.88 meters. This has created a space wonder with up to 4,200 liters cargo space. This Volkswagen will be available at the end of 2007 in the Caddy Maxi Life version; at the beginning of 2008 it will be followed by the Caddy Maxi Kombi and Caddy Maxi Van. A new top engine will make its way onto the new Volkswagen commercial vehicle: A powerful 103 kW / 140 PS TDI.

World premiere 2: The near-production Caddy BlueMotion concept vehicle is being presented by Volkswagen Commercial Vehicles as an extremely economical and environmentally friendly model. The rated fuel consumption of the Caddy BlueMotion, powered by a 77 kW / 105 PS strong TDI with standard diesel particulate filter, was reduced by 0.6 liter to 5.7 liters of diesel per 100 kilometers by applying numerous technical and aerodynamic design measures. This value corresponds to a CO2 emissions value of 149 g/km (reduction of 18 g/km).

World premiere 3: The all-wheel drive Multivan PanAmericana was designed for very big adventures. It is reminiscent of the approx. 23,000 kilometer long route from Alaska to Tierra del Fuego – also known as the Panamericana. In 1999, another all-wheel drive Multivan covered this stretch in a record time of just 15 days. The entire equipment package of the Multivan PanAmericana was customized for these types of adventures. The model has underbody shielding as standard equipment, for example. As an option, the new model can also be ordered with a chassis set 50 millimeter higher and shorter gear ratios.

The California, one of the most popular camper vans in Europe, is entering the starting gates once again with a limited and particularly well-equipped "NoLimit" version. Total production run: 222 vehicles. Exterior identifying characteristics: White paint, 18-inch alloy wheels, chrome accents and tinted windows from the B pillars. Upgrades to the interior include a combination of leather and Alcantara upholstery on seats and beds. Exclusive features such as a mobile 10-inch monitor with integrated DVD player and DVB-T receiver as well as an iPod (30 GB) are standard equipment, as are a DVD navigation system and bi-xenon headlamps.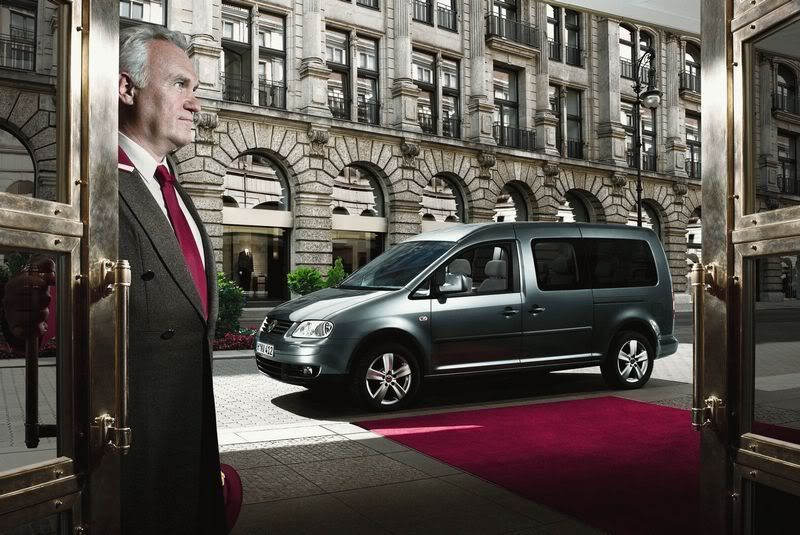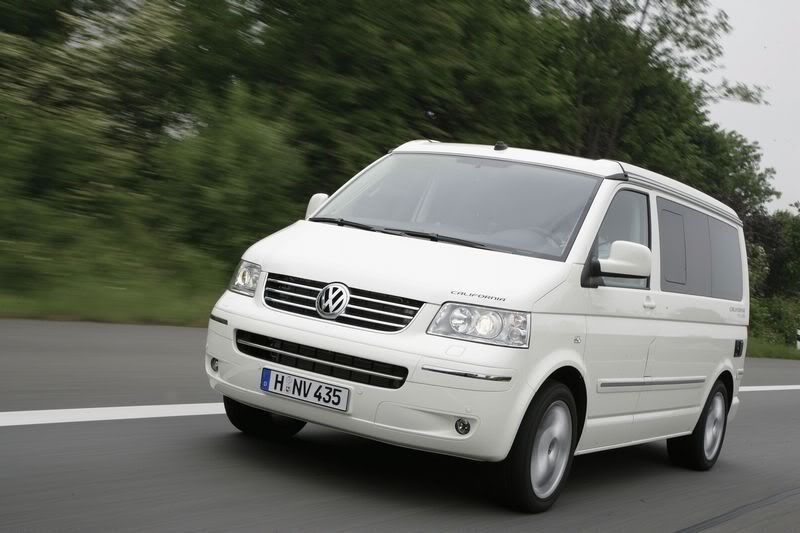 Source: Volkswagen Commercial Vehicles
Labels: BlueMotion, Caddy Maxi, California, Multivan, NoLimit, Panamericana, VWCV