Tiguan SUV officially unveiled in Frankfurt
Posted by Lorenzo at 6:52 p.m.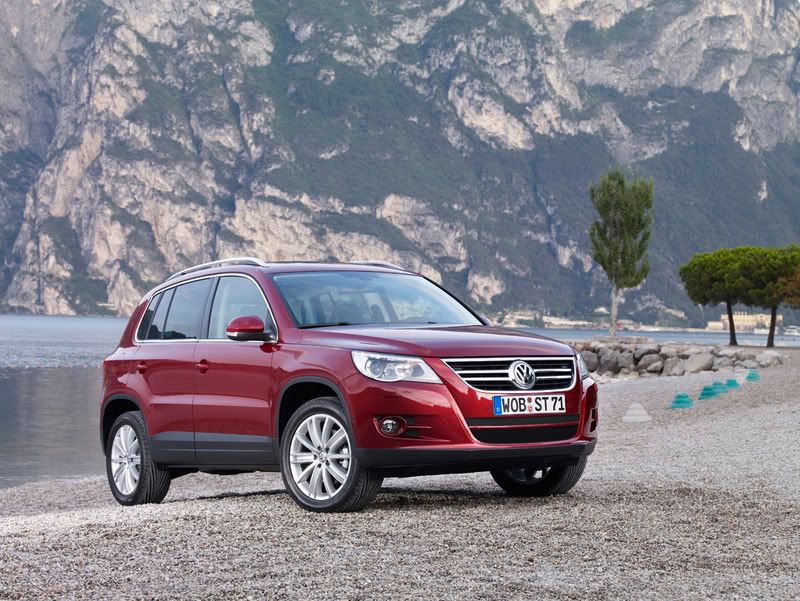 Volkswagen officially unveiled the Tiguan at this year's Frankfurt show and with it, some new information. There isn't really anything that we didn't know already. For example, we already knew more or less the trim levels the Tiguan will come in. Turns out, we only knew two of the three trims. The "Trend & Fun" and "Sports & Style" will outfit the Tiguan specifically for road use. Basically, don't try traversing rocks on these two models. The other, the "Track & Field" is more for off-roading and gets that higher approach angle of 28 degrees, ten more than the other two. The "Track & Field" also receives driver aids that help when off-roading. All Tiguan trim levels are available with 4Motion.
The Volkswagen claims that the Tiguan is the first SUV with a completely "charged" (according to the press release) engine lineup. What that basically means is that all engine choices are either turbocharged or turbo and supercharged, which helps in fuel efficiency and emissions. There are three TSI engines that ranges from 150 hp to 200 hp and two TDI engines of 140 hp and 170 hp. The engines can be paired with either a manual or DSG.
Some notable features include Park Assist, which debuted in the Touran. Park Assist allows you to park the car without actually parking the car. You simply find a space, activate the system and it automatically calculates how much to turn the car to get it perfectly in the spot. All you have to do is determine how fast to go with the gas pedal. The Tiguan also features Volkswagen's new RNS 510 navigation unit which, among other things, feature a 30 GB hard drive for your media, an off-road feature, and a back up camera. A panorama sunroof is available.
It is important to note that most of these features are for the Euro spec Tiguan. But we may be seeing some key features trickle on down to the North American market when it comes out next year. Europe, which can expect it next year, can expect it earlier that us.
Press release and image gallery after the jump.

Update: Image gallery added.
Source: Volkswagen



Click to start. Click again to enlarge.


Tiguan sets new standards with its high level of driving dynamics

Driving-active Tiguan redefines interface between SUV and car

First Volkswagen with fully charged engines without exception

New and quiet common rail TDIs already fulfill Euro-5 emissions standard

Maximum trailer load of 2,500 kilograms marks best value in its segment

Wolfsburg, 11. September 2007. Volkswagen is showing the new Tiguan in a world premiere at the International Motor Show (IAA) in Frankfurt. This "small brother" of the Touareg can be recommended to all those car drivers who enjoy the individual visual appearance and versatility of a SUV, but also expect a premium level of comfort, agility and variability. Its chassis sets new standards in the world of SUVs, because i t is extremely driving-active and safe. All five engines – for the first time on the global SUV market all engines are charged without exception – already deliver, powerful propulsion just above the idling speed. Today, the completely new and very quiet common rail TDIs already satisfy the Euro-5 standard that does not go into effect until 2009. Upon request, the Tiguan can be parked nearly automatically in the urban jungle by the Park Assist feature. Off-road, on the other hand, the latest radio-navigation system (RNS 510) navigates its occupants back to civilization using its off-road function. Meanwhile, with up to 1,510 liters of cargo space, the Tiguan exhibits van qualities. 2,500 kilograms of trailer load also define the absolute best value in the Tiguan segment.





Trend&Fun and Sport&Style as clever and agile all-round talents



Very intentionally, Tiguan – offered in the equipment versions Trend&Fun, Sport&Style and Track&Field – is being offered in two body variants: The Trend&Fun and Sport&Style versions were specifically designed for primarily on-road use. Their agile, safe and highly comfortable driving behaviors are equal to those of a car. At the same time, these Tiguans do not shy away from either off-road drives or trailer loads. They leave the really rock-tough off-road routes to the Tiguan Track&Field.





Track&Field for more serious off-road duty



The Tiguan Track&Field was specially designed for life off of the asphalted trails. Different than the Trend&Fun and Sport&Style versions, this especially adventure-friendly Tiguan exhibits a more extreme entry angle (28 instead of 18 degrees; maximum angle without the vehicle impacting the trail in front). As standard equipment the Tiguan Track&Field also has a newly developed off-road mode that awakens an entire armada of assistance systems to make drives off-road especially safe.





First SUV in the world exclusively with charged engines



As already outlines, the Tiguan is the first SUV in the world to be offered exclusively with charged engines. The advantage of engine charging: More power, less fuel consumption and lower emissions. Take the example of the gasoline engines: There will be three new TSIs – direct injection engines with turbocharging or turbocharging plus supercharging. The four cylinders deliver 110 kW / 150 PS, 125 kW / 170 PS and 147 kW / 200 PS. Take the example of the diesel: A completely redeveloped generation of noticeably quieter common rail four cylinder engines is being employed here. The two TDIs output 103 kW / 140 PS and 125 kW / 170 PS and smash the Euro-5 emissions standard.





Full-time 4MOTION all-wheel drive and two six-speed gearboxes



Full-time all-wheel drive is absolutely essential off-road. On paved streets an intelligent all-wheel drive also improves active safety. In the Tiguan the latest generation of 4MOTION all-wheel drive is used. It is shifted by manual, or optionally automatic, six-speed transmissions. Both transmissions satisfy special off-road requirements. The manual transmission can be driven at an engine speed of 1,000 rpm or vehicle speed of just 6.69 km/h, for example; this practically equals the crawler gear of a reduction gearbox. The automatic transmission has gear level preselect; in off-road use it prevents shifting to the next higher gear.





A SUV interior with the variability of a van



The Tiguan is an all-round talent. This characterization not only describes its powertrain properties, but also the multivariable and very spacious interior. The rear bench seat is split with a 60:40 ratio, it can be adjusted 16 centimeters in the longitudinal direction, and the rear seatback has multiple tilt adjustment settings. This provides either more legroom in the rear or additional space in the cargo area. Available as an option is a double cargo f loor including cargo management system. Also standard on the Tiguan Track&Field and Sport&Style is a folding front passenger seat so that very long objects can be stowed. With regard to the seat position, the passengers travel exceptionally comfortably, not only in front but also in the rear. The reason: Similar to the case in a movie theater, rear passenger seating is a bit higher and therefore more relaxed.





The Tiguan parks independently and finds the way back from the desert all by itself



On board an SUV for the first time is the Park Assist feature, with which the Tiguan turns into a parking space nearly automatically and impressively. The off-road mode already mentioned is a technology show; no other SUV in the world can call upon such a network of safety systems off-road at the press of a button. The Tiguan also exhibits its mastery when it comes to trailer load: It may range up to 2,500 kilograms, which is handled by the new, swiveling trailer hitch. In a class by themselves are the touchscreen radio and navigation systems; the top model (RNS 510) offers a standard 30 gigabyte hard disk memory, an off-road navigation mode and rearview camera. Any of the passengers can also look through a panorama sunroof at the sky of the savannah or the city.



Note:
All data and equipment contained in this press release apply to models offered in Germany. They may differ in other countries. All information is subject to change or correction.
TDI, TSI, DSG and Twincharger are registered trademarks of Volkswagen AG or other companies of the Volkswagen Group in Germany and other countries.