Mk. VI Golf is now officially leaked
Posted by Lorenzo at 12:08 a.m.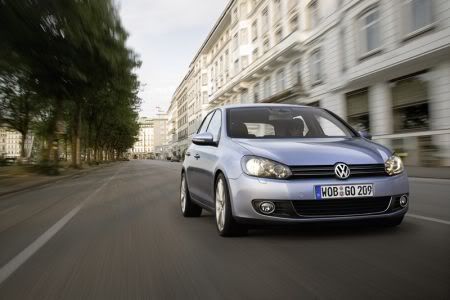 As they say, embargoes are meant to be broken. Indeed that's just what happened when images of the new Mk. VI Golf surfaced on the internet earlier today, days ahead of the planned unveiling later this week.
This car signifies that Volkswagen wants to remain at the top of the hot hatch segment. The Mk. VI has a nice combination of Mk. V and Scirocco design cues. We can clearly see the new face of Volkswagen: the two-bar grille bisecting the VW badge at the front. Around back, the Mk. VI gets simpler, more geometric taillights. No more quad-round taillights! Exactly what pattern the brake lights make is unknown. Looks like the rear will take some getting used to. Inside, We are presented with Volkswagen's new interior. Nothing too radical from the Mk. V's, with the biggest changes being a more organic flow to the dash, the HVAC vents and controls, and the instrument panel (at least from the picture's vantage point). Overall, the car looks lower, wider and sleeker.
As is usually the case with leaks like this, information is coming in bits and pieces. Volkswagen's press release should clear that up though when it comes out sometime this week. For now, let's just take a look at the Mk. VI Golf and decide if we like it or not.
More images after the jump
Source: Autoblog