UP: Volkswagen reports July sales results
Posted by Lorenzo at 11:39 p.m.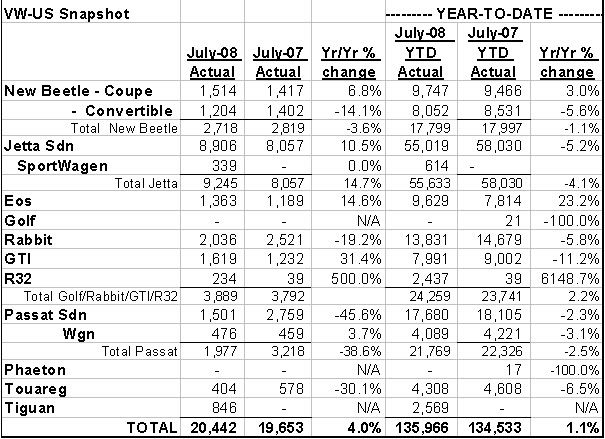 HERNDON, Va.— Volkswagen of America, Inc. today announced July 2008 sales of 20,442 units, a 4.0 percent increase over the July 2007 sales of 19,653 vehicles. On a year-to-date basis, 2008 Volkswagen sales are 1.1 percent ahead of 2007 sales through July.
"We're pleased with our July sales results," said Mark Barnes, COO, Volkswagen of America, Inc. "For Volkswagen to be ahead of last year's sales in this tough economy reflects the strength of our brand. Our new products launching later this year are sure to give us even greater momentum."
The GTI, the original pocket rocket, posted its best sales month since March of 2006, with July sales of 1,619 units, up 31.4 percent over last July. Volkswagen's innovative coupe-convertible-sunroof Eos continues to be a summertime top-seller with sales of 1,363 units, up 14.6 percent over last July.
Source: Volkswagen of America