Caddy & Caddy Maxi Sportline for the UK Revealed !!!!!
Posted by phaeton at 1:03 p.m.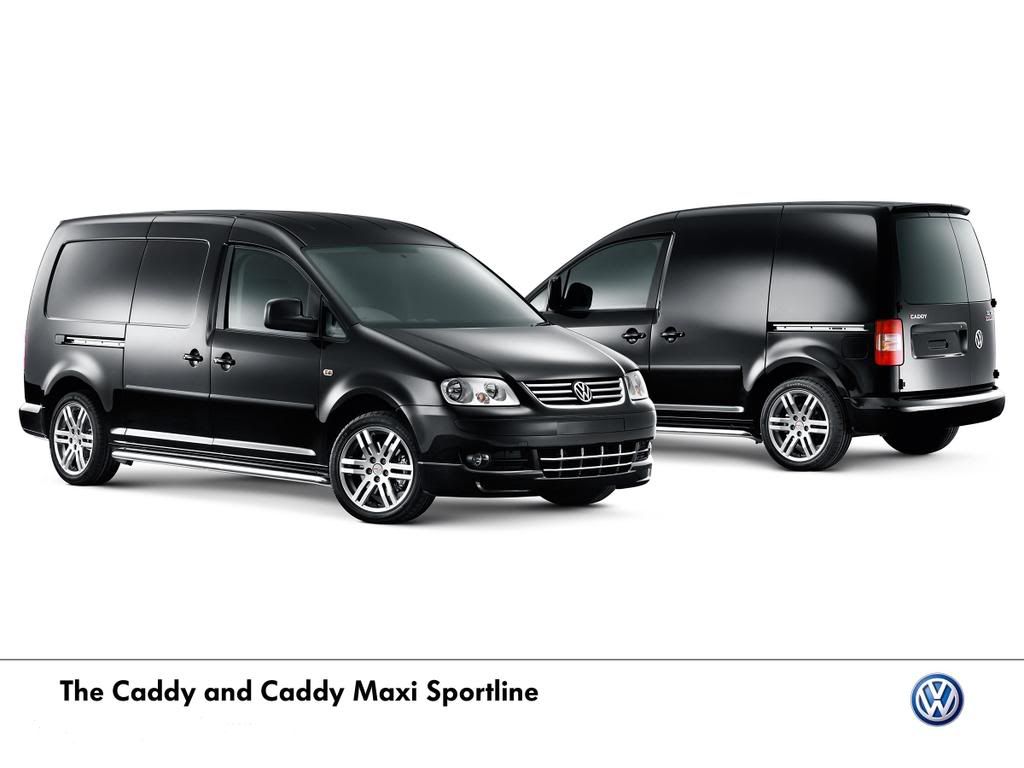 Volkswagen Commercial Vehicles UK have released the first image of the new Caddy Sportline and Caddy Maxi Sportline models which will be released in October.
Both vans will feature sporty alloy wheels, lots of chrome, wicked side steps, body coloured bumpers and a roof spoiler added to this the Caddy Sportline range will be powered by VW's popular 140hp / 103kW TDI engine that propels the Caddy from 0-62mph (0-100km/h) in around 10 seconds.
Click link for the Press Release.
INTRODUCING THE NEW CADDY AND CADDY MAXI SPORTLINE

Volkswagen Commercial Vehicles has released the first images of two exciting new models in its stylish Sportline range – the Caddy Sportline and Caddy Maxi Sportline vans, set to go on sale next month.

They join the existing Transporter Sportline panel van (short and long wheelbase) and Transporter Sportline kombi to make a range of five models in Volkswagen's dynamic Sportline range. Each vehicle combines aggressive yet tasteful styling additions while retaining the versatility for which the vehicles are renowned to provide customers with a vehicle that's equally suited to commercial or leisure applications.

Full details of the specification and prices will be announced in October, but as the preview photographs indicate the distinctive styling of the Caddy Sportline and Caddy Maxi Sportline includes alloy wheels, a lower front spoiler with fog lights, chrome upper and lower grilles, chrome side rails, body coloured bumpers and door mirror housings, plus a rear roof spoiler.

'We're excited by the potential for the Caddy Sportline and Caddy Sportline in the small and medium-sized van market,' said Gemma Cox, Product Manager, Volkswagen Commercial Vehicles.

'Judging by the popularity of the Transporter Sportline with customers wanting to create a distinctive and dynamic image for them and their business, we're sure the Caddy Sportline and Caddy Maxi Sportline will be just as successful,' she continued.



Source:Volkswagen UK
Labels: Caddy, Caddy Maxi, volkswagen commercial vehicles, VWCV