Volkswagen on course for world domination
Posted by Lorenzo at 12:14 AM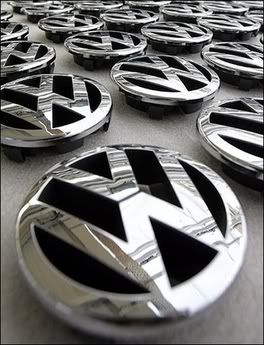 Last year, Volkswagen announced plans to become the world's largest automaker by 2018. Needless to say, many in the industry dismissed Volkswagen's plans as a distant goal at best. Here was Volkswagen, 4th largest in the world, hoping to surpass
The Toyota Way
in a mere decade? It seemed impossible.
But oh, how times have changed. Almost a year later, things are shaping up for Volkswagen. Since Volkswagen announced their plans, Toyota has since reported a 40% drop in profits and has also reduced their sales goal by 7% from a predicted 10.4 million vehicles sold in 2009 to only 9.7. Still a large margin but a sign that the world's largest automaker is hurting, too. Just last month, Toyota saw an 18% drop in sales. Compare that to Volkswagen's mere 4%. This despite the perceived halo effect of the Prius.
So it looks like Toyota is starting to lose its lead. But what about Volkswagen? Well, the big news today is that Volkswagen has surpassed Ford as the 3rd largest automaker in the world, after Toyota (1st) and General Motors (2nd). Europe's largest automaker beat out the Blue Oval by selling 3.31 million (7.2% over the previous year) vehicles worldwide compared to Ford Motor Company's 3.22 million. While the results are only for the first half of the current fiscal year and could still change within the rest of the year, it shows that Volkswagen has the capability to really take the lead in the industry. Volkswagen is obviously doing something right.
Continued success in emerging markets such as China and India, the forthcoming production plant in the US, and improvements in quality and pricing will all contribute to Volkswagen's success.
Press release after the jump.
Source: Volkswagen, Autoblog


VOLKSWAGEN OVERTAKES FORD

Volkswagen Group in the fast lane: Wolfsburg automaker now holds third place in global vehicle sales ranking

WOLFSBURG, Germany - The Volkswagen Group has taken its place among the world's top three automakers thanks to the Wolfsburg-based company's outstanding delivery figures in the first half of 2008. Rival Ford had to settle for fourth position.

"We are delighted that the Volkswagen Group has made it to the global automobile industry's top three for the first time. This shows that we are on the right track with our ever-stronger international presence and, above all, our product program. We will systematically push ahead with our growth course even in the present difficult market environment," Prof. Dr. Martin Winterkorn, Chairman of the Board of Management of Volkswagen Aktiengesellschaft, commented.

With 3.31 million vehicles delivered in the first half of 2008, the Volkswagen Group increased deliveries in the first six months of this year by 7.2 percent, moving up to third place in the global vehicle sales ranking and overtaking its rival Ford, which announced vehicle sales of 3.22 million for this period.