DOWN: Volkswagen reports September results
Posted by Lorenzo at 6:06 p.m.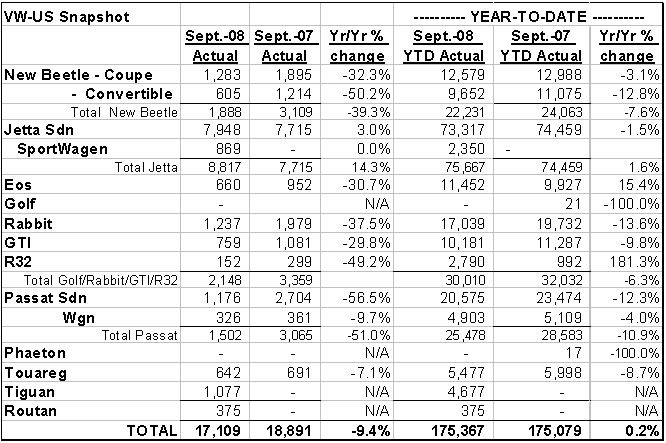 HERNDON, Va.— Volkswagen of America, Inc. today announced September 2008 sales of 17,109 units, a 9.4 percent decrease over the September 2007 sales of 18,891 vehicles. On a year-to-date basis, 2008 Volkswagen sales are 0.2 percent ahead of 2007 sales through September.
"This is the toughest economy we've seen in a long time" said Mark Barnes, COO, Volkswagen of America, Inc. "We're extremely pleased that we are still ahead of last years sales. With the arrival of our all-new luxurious CC and our seven passenger minivan, Routan, which are arriving in dealerships now, combined with our other new products launched earlier this year, such as our 50-state compliant clean diesel Jetta TDI, we see opportunity to continue to grow our business."
Demonstrating that customers are looking for better fuel economy choices, the all-new Jetta TDI and Jetta SportWagen TDI continue to sell as fast as dealers get them in. 2008 has been a big year for Volkswagen new product launches, with five new vehicles launched, including the Jetta SportWagen, Jetta TDI, Tiguan, Routan and CC.
Source: Volkswagen