Microbus, take 2?
Posted by Lorenzo at 5:28 p.m.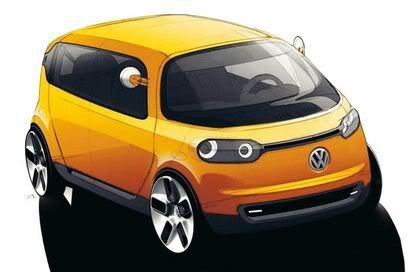 Many will remember 2005 as the year Volkswagen killed the Microbus project for good, citing reasons that it was too costly to build. Of course, for those who do not remember (or refuse to), the Microbus was a concept of a retro-looking minivan that hearkens back to the days of the Camper. Since 2005, Volkswagen has had nothing in its pipeline that can be considered as the successor to the Camper.
That may change soon, however. Looking for inspiration from the famous rock band The Who, which used a Camper bus in their early days (and also has a song called "Magic Bus"), Volkswagen and the band have joined forces in order to bring back the Camper. After performing at the Camper's 60th anniversary celebration at Hanover, Germany, The Who met up with Volkswagen executives, where Pete Townsend revealed that he still has a Camper parked in his garage. Now, Volkswagen is looking into possibly reviving the Microbus Concept and find ways to keep production costs down.
But retro will still be the key selling point of this new Microbus concept and so the exterior will look as such, only in a more stripped out and simple appearance that will appeal to a wider range of buyers. Volkswagen says that the vehicle will most likely be built in the US and will likely be badged Bulli, a name they recently registered.
Nothing has been set in stone but if all goes well, a Microbus may be coming out after all.
Source: Auto Express