Rumour to reality: Volkswagen to unveil Touareg R50
Posted by Lorenzo at 12:11 p.m.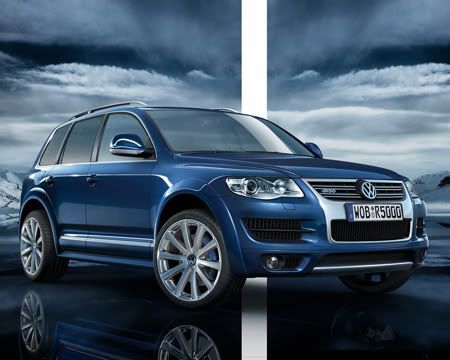 Rumour
turns to reality as Volkswagen has once again added onto the R family after revealing that a Touareg R50 is forthcoming and will debut at the Australian International Motor Show next week. As predicted, it will take it's looks from Volkswagen Individual's R-line Touareg.
Volkswagen remains quiet about the R50's numbers but they do say that the R50 will gain a "generous" increase in power over the 5.0L V10 TDI that it is based on. The standard V10 TDI on the Touareg currently produces 313 hp and 553 lb. ft. of torque. How they will top those already impressive numbers, I don't know but am eager to find out. From what I know, the R50 could possibly surpass the 365 hp and 625 ft. lbs. mark.
The R50 gets the standard R upgrades including upgraded wheels, suspension, exterior, and interior. As with it's two other stable mates, the R50 will be all-wheel drive, perhaps receiving a performance version of the Touareg's 4Xmotion.
A very short press release after the jump.
Source: Autoblog


In another world premiere for the Australian International Motor Show, Volkswagen has announced it will unveil its new Touareg R50 in Sydney next week (11 October). Developed by a team of specialists at Volkswagen Individual GmbH, the Touareg R50 is one of the most powerful SUVs in the world. While Volkswagen has yet to announce detailed specifications, it promises the R50 boasts "generous" increases on the 230kW of power and 750Nm of torque produced by the current V10 TDi model on which it is based. Bigger wheels and tyres and tweaked suspension complete the high-performance package. Volkswagen Individual GmbH has also designed new exterior and interior features to reflect the R philosophy.

The R50 is the third model to appear under Volkswagen's sporty R label, following in the footsteps of the Golf R32 and the new Passat R36 - which was launched last month at the Frankfurt motor show. All three models have 4MOTION all-wheel drive to guarantee optimal traction.